Flooding Kent and Essex was considered to save London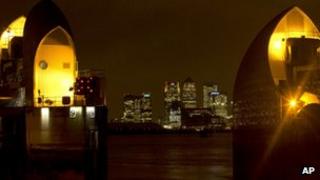 Government officials thought of deliberately flooding Essex and Kent in the early 1980s to prevent central London from being swamped by a tidal surge, official papers reveal.
Gates for the Thames Barrier, under construction, had been delayed by a strike, causing fears the capital could be left unprotected.
The plan was to breach flood defences lower downstream with explosives.
But the government was told this could cause "major political difficulty".
Documents released by the National Archives under the "30-year rule" show planning for flood problems.
Officials estimated there was a one-in-50 chance of a tidal flood in London in any season, but "almost total protection" would be provided by the Thames Barrier, which was due to be finished by December 1982.
Livingstone letters
There were fears of looting, civil disorder and the need for "mass evacuation", with large parts of the flood zone left virtually uninhabitable.
But a dock dispute in Teesside had stopped the loading and shipment of the gates, meaning the delivery of the final four gates, and other machinery, was being delayed towards the end of the project.
In February 1982 Ken Livingstone, then the leader of the Greater London Council, wrote to the transport, environment and employment secretaries stressing the "urgency" of the situation.
He expressed the hope that the government might be able to stop the strike.
It was with the potential for London flooding in mind that officials explored the possibility of breaching defences in Kent and Essex to take much of the excess water.
But they were concerned over potential costs, the need for explosive charges to be laid and legal problems because flood defences belonged to several water authorities.
They noted that plans needed "thorough investigation" and "sensitive handling", concluding it was "doubtful whether this option should be contemplated".
'Deaths... in the hundreds'
However, a severe London flood was envisaged as "the most damaging natural disaster liable to affect these islands".
A document stated: "It is generally accepted that there would be casualties, resulting from such causes as collapse of buildings, open manholes in flooded roads and individual failure to heed warnings, and that, depending on the severity of the flood, deaths could be numbered in the hundreds rather than dozens."
It was also feared the situation would be worsened by the downstream bank-raising works, which would effectively funnel Thames surge tides into central London.
Large sections of defences would have to be destroyed, "which together have cost £250m", the officials said.
The Thames Barrier became operational in 1982 and was used to protect London from flooding for the first time the following year.