Councils' parking income set to rise by more than £30m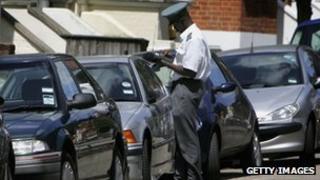 Councils in England are set to increase the money they make from parking charges and fines by more than £30m this year, the government has claimed.
Income from "parking services" is forecast to rise by 5.6% from £601m to £634.5m in 2013-14, ministers said.
Local Government Secretary Eric Pickles said the figure showed that parking charges needed to be "reined in".
He has urged free parking on double yellow lines for 15 minutes but councils say this would be impractical.
Conservative ministers and local councillors have been involved in a war of words over parking policies in recent months.
'Not listening'
Mr Pickles has suggested shoppers are being put off visiting town centres because of "over-zealous enforcement" of parking rules and warned councils against using motorists as a "cash cow" to compensate for falling income in other areas.
Officials said the £635m figure - outlined in projected annual revenue and expenditure calculations for local government - represented the "profit" that councils made from parking tickets and fines as it excluded the cost of administration and patrolling.
The equivalent figure rose by 5.7% last year, following a 3.3% uplift in 2011-12.
Mr Pickles said this showed town halls were "not listening" to concerns about the impact of parking policies on shops and families.
"This shows why we need to review and rein in unfair town hall parking rules," he said.
"The law is clear that parking is not a tax or cash cow for town hall officers."
Council tax freeze
In 2011, the coalition government scrapped guidance drawn up by Labour encouraging councils to set charges at a level which would encourage the use of public transport.
By giving councils the freedom to set parking charges as they liked, it was hoped they would introduce more competitive rates to boost the High Street but critics warned that some town halls would go the other way and raise prices.
Town halls have seen their finances squeezed due to a sharp fall in grant funding from Whitehall and a three-year freeze in council tax, where councils are offered financial incentives not to raise bills.
Council officials told MPs earlier this month that parking was not used as a "revenue-raising exercise" and suggested the low level of appeals against fines showed the system was understood by the public.
They say charges reflect the cost of providing parking and that income is retained to pay for road maintenance and street lighting as well as the cost of enforcement.
Wednesday's figures show overall expenditure by English councils is expected to rise from £98.4bn to £102.2bn this year, including more than £8bn on public transport.