Ministers plan 'crackdown' on nuisance phone calls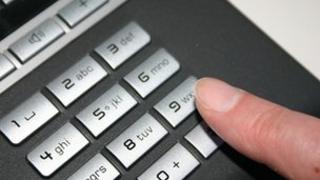 A range of measures is being planned to tackle the issue of nuisance phone calls, the culture secretary has said.
Regulators are to get more power to act against companies responsible, while cold callers will not be allowed to conceal their number - making reporting unwanted calls easier.
A licensing system for call centres may also be introduced in the future.
Maria Miller said the changes would ensure the rights of consumers "are not lost in the dash for progress".
Recent research from Ofcom found 82% of people had received an unwanted phone call and on average received two such "nuisance" calls a week.
The Department for Culture, Media and Sport (DCMS) document, Connectivity, Content and Consumers: Britain's digital platform for growth, says the calls "can be live marketing calls, silent calls, abandoned calls and recorded marketing message calls".
"More often than not it is perceived as a nuisance, but it can also cause anxiety, inconvenience and distress," the report says.
TV guides
The measures being taken also include lowering the threshold for number of calls before enforcement action is taken and allowing Ofcom and the Information Commissioner's Office to more easily share information.
There will also be clarification of the process for opting out of receiving marketing calls and reporting unwanted calls.
The DCMS strategy paper also flags up fines for breaching rules covering premium rate phone numbers and agreeing an industry code to deal with unexpectedly high mobile phone bills when a phone has been stolen or lost.
There will also be work with firms to help stop children viewing inappropriate content through internet connected-TVs - following on from the measures announced by the prime minister earlier this month to allow parents to filter out adult content from their home internet services.
There will also be a consultation on how to ensure that the former free-to-air channels - BBC, ITV, Channel 4 and Channel 5 - "remain easy to find as we move away from standard electronic programme guides that list what's on TV when".
And there will be legislation to make it as straightforward as possible for people to switch between the providers of "bundled" TV, telephone and internet services.
A consultation paper also published on Tuesday seeks views on how media plurality should be measured, including whether the BBC should be included or not.
Mrs Miller said: "The communications industry has undergone change at an unprecedented pace over the last decade.
"The changes we are making will put the British public at the heart of the sector.
"The government will ensure consumers are protected from potentially harmful content, soaring costs and contracts that don't meet their needs."