Driving out jargon: Whitehall's new vocabulary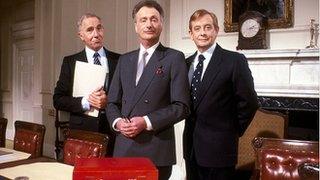 Policies will no longer be "delivered" and there will be less "collaboration" and "transformation" in Whitehall, if the government gets its way.
A new style guide on the www.gov.uk website warns against "vague" jargon and buzzwords as well as using too many metaphors in government announcements.
Agenda, dialogue, empower and utilise are among the phrases to be avoided.
Officials should use "understandable language" instead, a Cabinet Office spokesman said.
Under the new guidance, the civil service's vocabulary will shrink a little as it advises staff to use plain English in their dealings with the public and "not to use formal or long words when easy or short ones will do".
The instruction is contained in a 13-page style guide listed on the www.gov.uk website, which publishes all government information and is home to departmental websites.
Officials are encouraged to "use the language people are using" and, if unsure, to refer to Google Insights for popular search terms.
Certain words can be done without completely, it suggests, or should only be used in the proper context.
Generalised, "empty" concepts can result in confusion and people "losing trust", it warns.
In future, ideas should not be "advanced", problems "tackled", threats "countered", people "incentivised" people and resources "utilised" while references to "strengthening" should be left to structural engineering and "foster" to the care of children.
The government should be working with others, rather than "collaborating" and talking to people, instead of "engaging in dialogue". Ministers, meanwhile, should never describe a speech as being "key".
Other expressions to be avoided include "one-stop shop", "going forward", "slimming down" and "driving out" - except when it refers to herding cattle.
"All audiences should understand our content," the guide explains.
"This is not dumbing down. This is opening up government information to all."
A Cabinet Office spokesman said the document - which also looks at the use of acronyms, abbreviations, Americanisms and punctuation - was "just guidance" and no-one in Whitehall would be "policing" it.
While anyone combing through government press releases would undoubtedly be able to "find things" that did not conform, he said the intention was to use a "consistent style and understandable language".
"The whole point is, we are trying to get better in the way we present things."