Lib Dems deny mulling free bus passes for children in England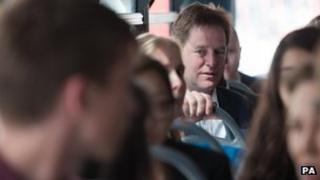 A senior Lib Dem has denied reports that Deputy Prime Minister Nick Clegg was "very keen" to introduce free bus travel for all under-16s in England.
Transport minister Norman Baker said claims in the Daily Telegraph that the Lib Dems were developing the idea were "simply not true".
On the BBC News Channel, he said ministers were exploring other ways to cut transport costs for young people.
"This is an interesting idea," a senior Lib Dem source had told the BBC.
"But it's far too early to say whether it can be delivered," the source added.
According to the Telegraph, the aim was to reduce the risk of children being involved in road accidents and curb the number of cars on the road, bringing environmental benefits.
Mr Baker said: "We're certainly interested as a government in trying to help young people who are facing significant challenges with their transport costs, particularly on buses, and that's certainly something that Nick [Clegg] is interested in.
"But we've had no discussions at all, Nick and me or anyone else as far as I know, about the idea of giving free travel to under-16s. That's simply not true."
Mr Baker had previously told Parliament he was working with the bus companies to try to narrow the disparity between the costs of bus travel for children in different parts of the country.
Under-16s and under-18s in full-time education in London have been able to travel on buses without paying for almost 10 years, while some children in other parts of the country benefit from means-tested schemes.
Oversight of transport policy is devolved in Scotland, Wales and Northern Ireland.