Tony Blair rejects claims he 'lobbies' Cameron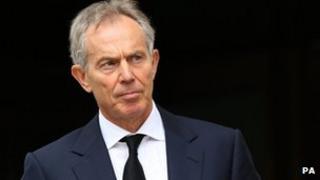 Tony Blair has rejected suggestions by David Cameron that he "lobbies" the prime minister about the Middle East.
The former UK PM was responding to comments by Mr Cameron during an interview about the influence of Tory election guru Lynton Crosby on policy.
Mr Cameron said Mr Blair "does lobby me from time to time on things like the Middle East peace process".
A spokesman for Mr Blair, now Middle East peace envoy for the UN, US, EU and Russia, did not "lobby David Cameron".
"You cannot seriously compare Tony Blair's role as Quartet Representative, which requires him to talk to governments around the world about the Middle East peace process, to that of a lobbyist," he told the Guardian.
'Weasel words'
Mr Cameron has faced questions about the influence of Mr Crosby on a government decision to shelve plans to introduce plain packaging for cigarettes. Mr Crosby's company, Crosby Textor, also advises tobacco giant Philip Morris in the UK.
The prime minister has said Mr Crosby has never "lobbied me on anything" - but has been accused of "weasel words" on the issue by Labour leader Ed Miliband, who says that does not rule out them having had a conversation on the issue.
The government this week published legislation requiring companies which lobby ministers to declare the names of their clients.
Asked whether Mr Crosby should provide a list of his company's other clients, Mr Cameron said: "The issue of his clients doesn't arise because he is not lobbying me on any issues. He is only discussing political strategy."
Mr Cameron said he could not be expected to ask for the client list of everyone he spoke to: "Tony Blair is a good example. Tony Blair is someone who does lobby me from time to time on things like the Middle East peace process.
"Do I have to know who all Tony Blair's other clients are? If I did that, I don't think I've got enough paper in my office to write them all down on."
'Storm in a teacup'
Boris Johnson - whose successful campaign for re-election as mayor of London was masterminded by Lynton Crosby - told BBC Radio 4's World at One the Australian spin doctor "does not advise on policy".
The Conservative mayor, who described Mr Crosby as a "friend of mine and a brilliant campaign manager", said he had urged Mr Cameron to hire the lobbyist at any cost to help the party win the next general election,
But he dismissed suggestions of a conflict of interest between Mr Crosby's commercial interests and government policy,
Mr Johnson said: "Nothing of that kind ever surfaced during his time as my campaign manager, I would be very surprised indeed if there was any such thing going on now.
"He plays a very, very different kind of role to the one that is being imputed to him now and I think it is a storm in a teacup."