DVLA considers launching inquiry into peer's litterbug claims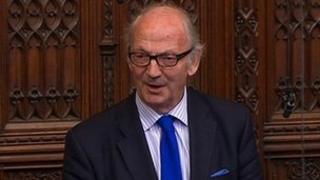 The DVLA is considering launching an inquiry after a peer said he tracked down litter louts with help from "friends" at the organisation.
Lord Selsdon says he jots down the registration number of drivers he sees throwing litter from their cars and then tries to get hold of their phone number to tell them off.
The DVLA said it would be contacting the peer to ask for further details.
And it will decide whether to launch an inquiry based on his reply.
Shadow Home Office Minister Baroness Angela Smith, for Labour, said: "The DVLA clearly shouldn't be giving out people's personal information to curious peers or anyone with a bone to pick.
"Data protection laws must be upheld. The DVLA should look into this matter urgently and ensure that people's private details aren't simply accessible by anyone who asks."
'Reasonable cause'
Lord Selsdon made his comments as peers debated the Littering From Vehicles Bill, which would see the owner of vehicles from which litter is thrown facing civil fines.
He said: "Some of the most badly behaved now are British families in large 4x4s driving to the Alps to ski.
"They are the ones that I have followed occasionally and for a bit of fun I just take a note of their number and occasionally manage - because I have friends with DVLA - to find their telephone and I give them a ring.
"I just say... I happen to be involved in the political world a bit and it was noticed at a particular point you did this."
He also revealed that he carries "nappy bags" in his pockets to keep rubbish in until he can find a bin.
Data protection watchdog the Information Commissioner's Office also suggested the DVLA should investigate the peer's claims.
"We expect any organisation handling personal information to have appropriate safeguards in place to ensure that access to people's details is strictly controlled. These arrangements must be effective in practice."
The DVLA keeps records of all vehicles licensed for road use, with names and addresses of the owners.
But it is only allowed to give them out if there is a "reasonable cause" - such as tracing owners of abandoned cars.
'Important point'
A DVLA spokesperson said: "We take our responsibility to protect information seriously.
"That is why information is only provided under strict controls to those who are legally entitled to it, such as local authorities and the police."
"Drivers do not have to provide their telephone number when dealing with DVLA so these do not form part of the driver or vehicle record."
"We are writing to Lord Selsdon to ask him for further information. Depending on his reply we will then decide on whether or not it is necessary to conduct a full investigation."
Environment Minister Lord De Mauley, expressed "reservations" about the littering from vehicles bill, which is unlikely to become law without government backing.
But he accepted it made an "important point" and said he would look at trials of a similar scheme being carried out in parts of London.
Peter Williams, spokesman for the RAC, said: "As Lord Selsdon's surprising outburst reveals, most motorists hate littering from vehicles.
"We are broadly supportive of this bill. However, there are some serious issues around proving who was responsible or even that the litter came from a specific car.
"The right of appeal process, therefore, must be robust if it hopes to get through the Lords and onto the Parliamentary agenda."