Bain Capital buys stake in UK government blood company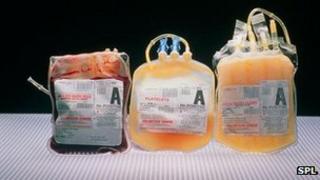 The government has sold an 80% stake in blood products company Plasma Resources UK to a US private equity firm.
Bain Capital paid £230m for the majority stake in the company, which supplies the NHS with treatments for haemophilia and immune deficiencies.
It said it would change the firm into "a UK-based life sciences champion".
But former Health Minister Lord Owen said sensitive health assets should not be owned by a firm without shareholders and "answerability".
Plasma is a straw-coloured blood component that acts as a clotting agent.
It is not sourced from UK donors, on medical advice since the emergence of "mad cow disease", but is imported from the US.
Investment needed
Plasma Resources UK (PRUK) turns it into life-saving treatments, some of which are supplied to the NHS, and others sold outside the UK. It is not connected to the National Blood Service, which blood donors supply.
The government announced plans to sell it off in January, saying private sector investment was needed to "support the company and its employees in the next phase of the company's development".
It said that was the best way of allowing PRUK - a holding company that includes the UK-based Bio Products Laboratory (BPL) Limited and the US plasma supply company, DCI Biologicals Inc - "to grow and be successful in an established and highly competitive global industry".
An Edinburgh plant which manufactured blood products shut in 2007 and there were concerns about the future of the BPL lab in Elstree, Hertfordshire, without more investment.
The government also said the sale would benefit patients, by allowing more treatments to be developed and allowing lab facilities in Elstree to "keep pace with the latest technology".
But crossbench peer Lord Owen, who sought to make the UK self-sufficient in blood supplies when he was a Labour health minister in the 1970s, told BBC Radio 4's Today programme that the sale was "extraordinary".
"Remember this was bought by the Labour government in 2002, because of the danger to contamination of blood supplies by CJD - which most people think of as mad cow disease - and it was bought for the NHS and owned by the NHS.
"This is being sold to a private equity capital - this is not a public company with shareholders and public responsibilities and answerability.
Lord Owen, who was on the advisory board of a private equity firm - Terra Firma - said private equity had its uses but added: "What they basically do is fatten it up over a few years, invest in order to sell at very high substantial prices."
He said that, while the government might make a profit, there were concerns about the level of corporate governance of a sensitive health asset.
"Is there no limit to how this government will privatise assets?" he said.
'Good news'
However, a Department of Health spokesperson said the sale was "good news for patient safety, taxpayers and jobs".
"It will ensure we continue to have a secure, safe supply of blood plasma products for years to come and that has always been our priority. The BPL plant in Elstree is outdated and needs investment - Bain Capital has committed to invest £50m in it. Without this level of investment, BPL would have struggled to compete on the internationally competitive market and it could have faced closure.
"The department is retaining a 20% stake in the company. We will have a seat on the board and there are safeguards in place which mean Bain Capital cannot materially change the nature of the business.
"It is important to note that the NHS already currently buys 70% of plasma products from private companies based overseas, with 30% from PRUK."
Bain Capital - founded by, among others, former US presidential candidate Mitt Romney in 1984 - did not respond directly to Lord Owen's comments.
Track record
But it said it planned to transform PRUK into "a UK-based life sciences champion".
The firm said it had an unrivalled track record in healthcare investment - it owns a stake in HCA, which controls about 160 hospitals in the US and US pharmaceutical giant Quintiles, whose European headquarters is in Reading.
Robin Marshall, managing director of Bain Capital in London, said: "To enable PRUK to fulfil its potential and become a globally competitive, UK-headquartered life sciences champion, we intend to embark on a substantial capital investment plan of more than £50m to increase production capacity, refurbish and maintain the existing facilities, develop new products and expand the company's international reach."