Lobbyist register plan outlined by ministers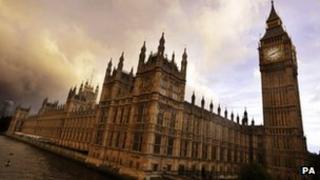 Ministers have outlined plans for a statutory register of lobbyists, saying it would boost public confidence about outside influence on decision-making.
Under proposed laws, firms lobbying ministers and civil servants would have to declare who they represented.
Trade unions would be required to make their membership records subject to annual independent verification.
David Cameron and Ed Miliband clashed earlier over lobbying and the role of Conservative adviser Lynton Crosby.
The publication of legislation comes amid recent allegations about the influence of lobbyists on government decision-making and the involvement of MPs and peers with lobbying groups, as well as a row over trade union influence within Labour.
'Best disinfectant'
Two Conservative MPs have referred themselves to standards watchdogs over allegations about their paid relationships with business interests while two Labour members of the House of Lords have been suspended and an Ulster Unionist peer has resigned his party whip pending investigations.
In recent days, the role of Conservative election adviser Lynton Crosby has been in the spotlight amid claims by Labour that he influenced government policy on cigarette packaging while his lobbying firm was working for tobacco manufacturers.
The prime minister has denied that Mr Crosby lobbied him over plans to introduce plain packaging for cigarettes as he clashed with the Labour leader on the issue at Prime Minister's Questions.
But Conservative MP Sarah Wollaston said the extent of lobbying by big companies over cigarette packaging and alcohol pricing was "pervasive and disturbing", adding that "the public have a right to know who else is paying for" the services of party advisers.
The Conservatives and Lib Dems pledged to act on lobbying in their 2010 coalition agreement, after David Cameron described access for lobbyists in 2009 as the "next big political scandal" waiting to happen.
The government's proposals would:
Introduce a statutory register of lobbyists to identify whose interests were being represented by consultant lobbyists and those who were paid to lobby on behalf of a third party
Set a £390,000 cap on the amount any organisation - excluding political parties - could spend across the UK during elections
Set limits for organisations that campaign for or against a specific party or target their spending at a particular constituency
End self-certification of union membership numbers for all but the smallest unions
Enable an independent certification officer to check records and take enforcement action if necessary
Andrew Lansley, the leader of the House of Commons, said the government was not seeking to prevent or deter lobbying but to ensure there was maximum transparency.
"From the beginning, this government has believed that sunlight is the best disinfectant," he said.
"So we have been the most transparent government ever, publishing an unprecedented amount of information so that the public can see as much as possible of the workings of government, and hold us to account for the decisions we make.
"This bill is about extending that transparency further to give the public more confidence in the way third parties interact with the political system."
Under the plans, trade unions will have to "visibly demonstrate" each year that their membership records are up to date and be liable to an independent audit if discrepancies are found.
Trade unions have been accused by the government of wielding too much power after Unite was accused of rigging the outcome of a Labour selection contest in Falkirk. In response, Mr Miliband has announced changes to union affiliation procedures.
'Unreasonable demands'
Ministers said the government was not seeking to restrict trade unions' activities but to "strengthen their accountability" to their members and the public in general.
The campaign spending limit would apply to trade unions as well as other groups such as animal welfare groups, tactical voting groups, rural campaign groups, religious groups.
Union officials said their members had been unfairly targeted instead of "rich corporate lobbyists".
"Rather than fix their sights on those who try to abuse the system, ministers - in what smacks of pure political spite - have gone hell for leather after unions and the millions of ordinary men and women they represent on an issue completely unrelated to lobbying," Frances O'Grady, the secretary general of the TUC, said.
Mrs O'Grady said unions already provided annual membership numbers to certification officers, adding that the "government is placing unreasonable demands upon unions, while letting the real lobbying villains get away scot free."
Lobbyist groups said the proposals were likely to result in less openness than under the current voluntary system and lots of public relations firms would not be required to register.