Green Party's Natalie Bennett in anti-migrant violence warning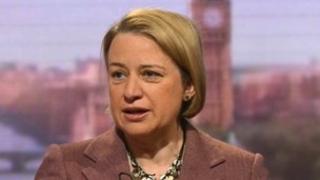 Immigrants are at risk of attack because the public have been encouraged to blame social problems on them, the Green Party leader has warned.
Natalie Bennett urged ministers - and the opposition - to stop stoking public anger about immigration to distract from their own policy failings.
She urged them to give the public the "facts" on immigration.
Downing Street said David Cameron valued the contribution made by immigrants to the UK.
In a speech at the Romanian Cultural Institute, in central London, Ms Bennett, leader of the Green Party of England and Wales, said: "The declaring of open rhetorical season on migrants by the majority of our politicians is a signal.
"It's a signal to the drunk man in the pub, who wants a target for his abusive tongue, and quite possibly his fists, and is now increasingly likely to find it in someone who is, or he perceives to be, an immigrant. It's a signal to the irate woman on the overcrowded bus, ready to launch a tirade at a fellow passenger who might be an immigrant.
"We have a responsibility to say 'enough'. To acknowledge that we need to welcome immigrants, to regard them not as economic pawns, but people, with families, with friends, with feelings - who deserve, and must get respect, and respectful treatment."
'Real risk'
The country had big problems with the NHS, crowded schools, housing and low-paid jobs but politicians "must not be allowed" to blame immigrants for problems caused by failed or misguided economic policies, she said in a speech to the International Symposium on Cultural Diplomacy.
The Green Party passed a conference motion in 2011 opposing the government's immigration cap, which aims to reduce net migration to "tens of thousands" by 2015.
The party says it would scrap the system which gives priority to highly skilled or wealthy migrants, and allow "the partners, prospective partners, immediate families and prospective families of British residents to join them without excessive delays or unreasonable requirements for proof of relationship".
Ms Bennett denied this amounted to an "open door" immigration policy, arguing that the current system was "grossly unfair" to those who wanted to join their family members in the UK.
Asked if she was being alarmist to suggest the public would turn to violence, she claimed there was a "real risk" of this happening "if we keep this rhetoric up".
She was speaking after former government minister Sarah Teather criticised government plans to make GPs and private landlords check people's immigration status, saying it risked "fracturing" communities and "creating an enemy" to distract from economic problems.
'Protecting services'
In an interview with the Guardian, she said she had been horrified to discover a cabinet sub-committee set up to discuss how to make life difficult for "unwanted" immigrants had originally been called the Hostile Environment Working Group.
Downing Street said the purpose of the now renamed Inter-ministerial Group on Migrants' Access to Benefits and Public Services committee was to discuss the government's immigration policy and David Cameron had made it clear, in a keynote speech in March, that he valued the contribution immigrants had made to life in the UK.
A Home Office spokesman said: "We welcome those who wish to make a life in the UK with their family, work hard and make a contribution but it must not be at the taxpayer's expense.
"We are building an immigration system which works in the national interest and attracts the brightest and the best global talent to the UK. At the same time, the Inter-Ministerial Group on Migrant Access to Benefits and Public Services aims to protect public services and ensure our welfare system is not open to abuse.
"Our tough new rules are already taking effect with overall net migration falling by almost one third since 2010."