Ed Miliband demands Lynton Crosby 'conflict of interest' inquiry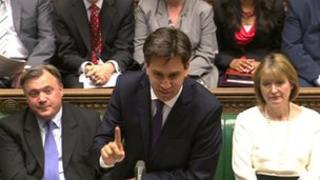 Ed Miliband is calling for an inquiry into whether lobbyist Lynton Crosby was behind David Cameron's decision to shelve plans for plain cigarette packs.
Labour says Mr Crosby's job advising the Tories on election strategy and his company's work for tobacco giant Philip Morris is a clear conflict of interest.
Mr Miliband has written to cabinet Secretary Sir Jeremy Heywood to demand an inquiry.
Mr Cameron and senior ministers insist Mr Crosby has no influence on policy.
Labour has seized on Mr Crosby's background as a lobbyist for tobacco companies to portray the prime minister as being in the pocket of big business, with Mr Miliband saying Mr Cameron was the prime minister for "Benson and Hedge funds".
'Smear campaign'
They say this is the most likely explanation for Mr Cameron's apparent change of heart on whether cigarette packs in England and Wales should be stripped of their colourful branding to prevent children from taking up smoking.
But the Conservatives have accused Labour of a "smear" campaign designed to distract attention from their own difficulties over the influence of the trade unions.
They have also discovered that a former aide to Mr Miliband, James Barge, now works for Philip Morris as corporate affairs manager - and are demanding to know whether he has lobbied shadow ministers.
Mr Cameron says the decision on packaging has been delayed to gather more evidence - exactly as Labour did when it was in power.
Earlier, at Prime Minister's Questions, Mr Miliband asked the prime minister to confirm he had held no discussions with Mr Crosby about plain packaging before making his decision.
Mr Cameron said the Australian spindoctor had "never lobbied me on anything".
Mr Miliband said: "The whole of the country will have heard those same weasel words that you are sticking to. He can't deny that he had a conversation with Lynton Crosby about this issue.
"Even by the standards of this prime minister, this is a disgraceful episode. [Tory MP Sarah Wollaston] described it as a 'day of shame for this government'.
"You are the prime minister for Benson and Hedge funds and you know it. Can't you see that there is a devastating conflict of interest between having your key adviser raking it in from big tobacco and then advising you not to go ahead with plain packaging?"
'Conflict of interest'
Mr Miliband has now written to the UK's top civil servant Sir Jeremy Heywood claiming that if Mr Crosby had been a government employee he would be guilty of breaching the ministerial code, which forbids conflicts of interest.
In his letter, Mr Miliband says Mr Crosby reportedly met David Cameron at his official country residence, Chequers, ahead of the Queen's Speech at which the apparent U-turn on cigarette packaging was announced.
He adds that Mr Crosby has also represented the oil and gas industry and the drinks industry - both areas in which he claims the government has recently shifted position.
The letter says: "In light of these conflicts of interest, I believe it: A) makes sense for you to launch an inquiry to establish public confidence about the activities of Mr Crosby;
"B) provide details of the checks that the Health Secretary said exist to prevent Mr Crosby being involved in areas where he has clients;
"C) set out what steps you are taking to ensure those checks also apply to Mr Crosby's advice to the Prime Minister, given that they clearly have not to date."
At Prime Minister's Questions, Mr Cameron said: "Let me be absolutely clear about this - the decision not to go ahead for the time being is a decision made by me and the health secretary.
"If you don't agree with that decision then you can attack me for making it."
Senior ministers - including Health Secretary Jeremy Hunt and Deputy Prime Minister Nick Clegg - have also been lining up to deny Mr Crosby had any influence on policy discussions.
Mr Clegg told BBC Radio 5 Live: "I have never met the guy. I don't know what he looks like. I wouldn't recognise him if I passed him in the street."
It comes as MPs begin a fresh attempt to clean-up the lobbying industry in the wake of a string of cash-for-influence scandals.
The government's lobbying bill will create a register of lobbying agencies, who seek to influence government decision-making on clients' behalf.
The firms would have to publish a full list of their clients, although some campaigners say this will have a limited effect as it only includes "third party" lobbyists, rather than companies, charities and trade unions which lobby directly rather than through lobbying agencies.