Nick Clegg announces review of employment and training for young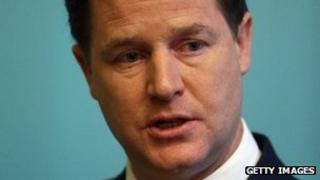 Nick Clegg has announced a review of employment and training options for 16 to 24-year-olds.
Speaking at the CBI annual dinner, the deputy prime minister said "urgent action" was needed to prepare young people better for working life.
And he urged Britain's five million businesses to create an extra one million jobs.
But Labour said the coalition had "undermined" young people's prospects during its three years in power.
'Maze'
BBC political correspondent Iain Watson said unemployment among 16 to 24-year-olds remained "stubbornly high", at just under one million.
In his speech, Mr Clegg told business leaders that school-leavers were faced with a confusing array of schemes designed to support them, with too many getting lost in lost in "a maze of different programmes".
Companies considering employing young people also had to navigate a complex web of government initiatives.
The review will look at how to simplify the system, although the government has already ruled out creating a single ministry dedicated to young people.
There is likely to be greater co-ordination between departments, however.
The review, to be conducted by civil servants, will report to the prime minister and deputy prime minister in the autumn.
For Labour, shadow education secretary Stephen Twigg said: "With nearly a million young people out of work, David Cameron and Nick Clegg have spent three years undermining opportunities for them. The right to work experience and careers advice has gone and vocational training has been undermined.
"Instead of more talk, we need a jobs guarantee for young people that have been out of work for a year, and measures to ensure apprenticeships go to young people."