Neighbourhood Watch groups could help with elderly care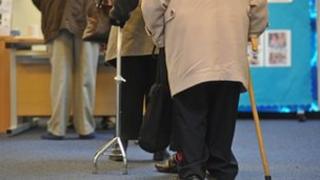 Neighbourhood Watch groups in England could provide companionship and practical help for pensioners living alone, under an idea being considered.
Social care minister Norman Lamb said many older people were living "very lonely lives", without family support.
While professional care remained vital, something extra was needed, he said.
The "principle of neighbourliness" could be extended to address the "extraordinary challenge" presented by an ageing society, he told the BBC.
There are 173,000 Neighbourhood Watch groups in England and Wales, a scheme which started in the 1980s to encourage local residents to report suspicious behaviour in their area and to help prevent burglaries.
Mr Lamb said the pressures on the care system were only going to increase, with the number of people living beyond 80 set to double by 2030 and many unable to rely on regular family help.
'Miserable life'
Loneliness and isolation damaged people's physical and mental health and made people dependent on the state a lot earlier than they needed to be, he told BBC Radio 4's Today programme.
"If you have care needs and you don't see anyone day-to-day, week-to-week, and all you have is a care worker coming in for a very short period of time to do your essential feeding and washing, it can be a pretty miserable life.
"As a society, we have a responsibility to think about this challenge."
Mr Lamb said he was not looking to undermine the "essential" work of care professionals but to provide an extra dimension to help people's quality of life.
"Care is not enough on its own. We have to ask the fundamental question what gives you a good life.
"That's about companionship, friendship, neighbourliness. As our extended families have dispersed across the country and sometimes well beyond, inadvertently we have ended up with very many people living very lonely lives."
'Looking out'
Greater "collaboration" was needed between the state and voluntary bodies in the future, he added, and Neighbourhood Watch could play a valuable role in supplementing support the former.
"I want a discussion about this. We will come forward with further plans in the non too distant future.
"At its heart, the fact that we have this (neighbourhood) movement, let's just apply that neighbourliness principle to looking out for elderly people on our roads who might actually be on their own but nobody might be thinking about."
Community groups would need to apply for "care status" from their local authorities if they wanted to provide statutory services.
But ministers have said they should not be "prescriptive" about who provides basic assistance and existing relationships should be built upon, raising the prospect of neighbours helping with tasks such as feeding.
Ministers want more community solutions in care provision and in the recent Spending Review, the government gave a £2bn slice of the social care budget to councils to encourage closer working with the NHS.
'Specialist skills'
The Neighbourhood Watch and Home Watch Network said it was keen on getting involved. "It is important for groups of members to be aware of the vulnerable people in their communities," its chairman Jim Madden told the Daily Telegraph.
But Age UK said the presence of a "friendly face", however welcome, could not make up for a lack of resources in the care budget.
"Good neighbours can make a real difference but are no substitute for a well-supported care system which helps people with a range of care needs, including everyday tasks such as washing and dressing," said its director general Michelle Mitchell.
"Often helping older people with these tasks can require specialist skills such as manual handling so that older people are treated safely with sensitivity and dignity.
"Neighbours can go so far, but we must face up to the reality of our ageing population and the government must commit to funding the professional care and support they need."