NHS redundancies 'have cost £435m' since April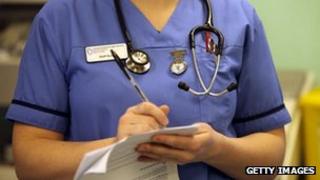 The NHS in England has spent £435m on staff redundancies as part of the government's overhaul of services, official figures show.
The National Audit Office found 10,000 full-time employees had left at an average cost of £43,095 since April.
It added that changes to the system had been "successfully implemented" so far, but "much" work was still needed.
The Department of Health said reforms would bring a "huge net gain" and give people the care "they really need".
Strategic health authorities and primary care trusts were abolished in April under the terms of the Health and Social Care Act, with GPs given more responsibility for commissioning services.
'Concerns'
The NAO found 44 "very senior managers" laid off as a result had received up to £578,470 in redundancy payments. The average pay-off had been £277,273 and the lowest £33,771.
The NAO said the transition, which saw 170 organisations closed and more than 240 new bodies created, had been "successfully implemented", even though some parts of the system were "less ready than others".
But officials said that "much remains to be done to complete the transition".
Until the end of March, the reforms had cost £1.1bn to implement, and the Department of Health was "confident" the total costs would not exceed £1.7bn, the NAO said.
But it said some of the newly created clinical commissioning groups, led by GPs, lacked credible financial plans, adding: "This raises concerns about their ability to make savings and remain financially sustainable in the coming years."
Amyas Morse, head of the NAO, said: "It is a considerable achievement that the new organisations were ready to start work on time.
"This could not have been accomplished without the commitment and effort of many NHS staff. However, much needs to be done to complete the transition."
For Labour, shadow health minister Andrew Gwynne said: "This report lifts the lid on the government's shambolic re-organisation of the NHS."
He added: "Ministers are taking unacceptable risks with standards of patient care. They should focus on England's A&E crisis and making sure hospitals have enough staff."
But a Department of Health spokeswoman said the government's changes would bring a "huge net gain for the taxpayer".
She added: "We have put doctors and nurses in the driving seat. They are best placed to take decisions about care for their patients - decisions that were previously taken by managers.
"They now have the freedom, power and budget to make sure their local communities get the care and services they really need."