Rupert Murdoch 'welcomes' chance to face MPs again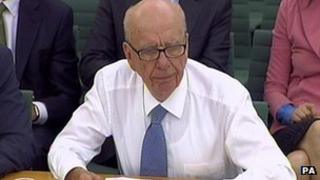 Rupert Murdoch has said he "welcomes" the chance to face MPs over comments he allegedly made about a police probe into corrupt payments by journalists.
The Commons culture committee wants to question the News Corp boss, who apparently criticised officers and defended reporters in secretly-recorded conversations with staff on The Sun.
Mr Murdoch's spokesman said he wanted to clear up "any misconceptions".
He previously gave evidence to the committee in 2011.
The appearance was disrupted when a protester attempted to throw a foam pie at him.
Mr Murdoch was secretly recorded in March by Channel 4 News and the Exaro news agency appearing to criticise the police and defending his journalists who have been accused of such payments.
It was broadcast appearing to show him criticising Operation Elveden - the probe into alleged illegal payments to public officials by journalists, mainly from News International.
'Protracted'
In the recording - of a talk Mr Murdoch gave to Sun journalists - he is heard complaining about "totally incompetent" police officers and saying he would do "everything in his power to give you total support, even if you're convicted".
BBC media correspondent David Sillito said the MPs believed there were contradictions between the apparent contents of the recording and Mr Murdoch's evidence to them that they wanted to explore.
But he added that with more than 20 arrests so far in the Elveden inquiry and several people charged, the committee would be extremely restricted in what questions it could ask.
A spokesman for News Corporation said: "Mr Murdoch welcomes the opportunity to return to the select committee and answer their questions. He looks forward to clearing up any misconceptions as soon as possible."
Earlier on Tuesday, Metropolitan Police Assistant Commissioner Cressida Dick told MPs on the Home Affairs Committee that the force was seeking to get hold of the tape recording to be able to "assess the full contents".
News Corp has said it continues to co-operate with the police regarding Operation Elveden, and the separate investigation in allegations of phone hacking, and said Mr Murdoch had been demonstrating "understandable empathy" with staff.
Evans Harris, associate director of the Hacked Off campaign, which calls for tighter regulation of the press, welcomed the move to recall Mr Murdoch.
He said: "The victims of press abuse, who Hacked Off represent, were appalled that Rupert Murdoch told Sun journalists that parts of the Leveson inquiry were over 'next to nothing'."