Falkirk row: Miliband vow to 'mend' union relationship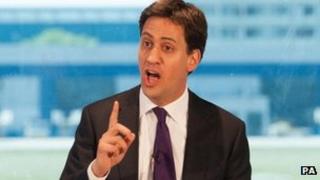 Labour leader Ed Miliband has pledged to "mend, not end" his party's relationship with unions amid the row over the Falkirk candidate selection.
In an Observer article, he says changes are needed so the process of choosing potential MPs becomes more transparent.
It is understood Mr Miliband will set out specific reforms this week.
BBC political correspondent Iain Watson said they would aim at a "level playing field" between local applicants for selection and union-backed opponents.
They are likely to include a code of conduct for Labour candidates and a cap on the money that can be spent during selection contests, said our correspondent.
According to an internal Labour report, members of the Unite union were signed up to the local party in Falkirk without their knowledge in a bid to influence the selection.
Mr Miliband wrote in the Observer: "The events we have seen in Falkirk have betrayed the values of our party. The practices we have seen should be unacceptable in any political party. But they are certainly unacceptable in the Labour party."
'Usual suspects'
He went on: "Too many people see politics as distant from their lives, irrelevant to their concerns and practised by a set of people who seem to live in a different world.
"Too often, they think that those who engage in politics are in it for themselves. An episode like Falkirk just confirms people's worst suspicions."
Mr Miliband said forthcoming Labour reforms would ensure future selections "are always fair, open and transparent".
In an article for the Sunday Mirror, Unite's general secretary Len McCluskey urged Mr Miliband to "step back from the brink of a ruinous division".
Labour has asked the police to examine the claims but Mr McCluskey said that no "criminal wrongdoing" had occurred.
He complained that the union had been "smeared by the usual suspects - the Tories and the right-wing media, who want to see both trade unions and Labour weakened.
"Shamefully, some in Labour's own ranks have joined in."
'Out of touch'
The party's investigation into events at Falkirk was a "shoddy fraud", he said.
"For the record, Unite has worked entirely within the rules in Falkirk," Mr McCluskey added.
"Let me be clear, we are happy to cooperate with the police, but we reject the idea that any criminal wrongdoing has occurred."
Mr McCluskey said: "Unite is proud that it is trying to reclaim Labour from the people that bought in to the free-market myth wholesale, who bet the country's future on the City of London - and who sometimes fiddled their expenses while they were at it."
Parliament had become "increasingly the preserve of an out-of-touch elite - Oxbridge-educated special advisers who glide from university to think tank to the green benches [of the House of Commons] without ever sniffing the air of the real world", he said.
"That is what Unite is trying to change. We want to give our democracy back to ordinary working people."
Falkirk selection row: Who's who?
Labour refers Falkirk row to police