Foreign pupils could attend academies, leaked letter suggests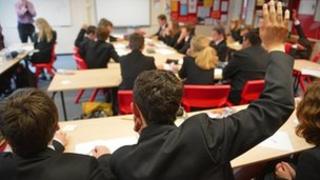 Pupils from overseas could be allowed to access places at state-funded academy schools in England, a letter from an aide to David Cameron suggests.
The proposal, sent to universities minister David Willetts, refers to "export potential" in the system.
But it says academies and free schools should "focus" on improving the attainment of English pupils.
Labour said the leaked letter raised "serious questions", but Downing Street declined to comment on its contents.
Academies, which are state-funded but privately run, are not allowed to make profits.
'Explain'
The letter, written by the prime minister's private secretary, Simon Case, and leaked to The Times newspaper, says that "while the academies/free schools programme should focus on consolidating domestic progress over the next couple of years, we should look at export potential too.
"This should include consideration of allowing international students to access places at academies."
Shadow education secretary Stephen Twigg said: "Parents will have serious questions for the prime minister about opening up schools to overseas pupils.
"With a shortfall of hundreds of thousands of places he should make sure that schools provide enough places for our own children. David Cameron needs to explain what on earth he's up to."
Earlier this week, the The Department for Education strenuously denied it had plans to allow academies and free schools to make a profit.
This came after a document seen by the BBC suggested its most senior civil servant had proposed reclassifying academies as private firms.