Green Deal 'could lead to deadly summer overheating'
By Brian Wheeler
Political reporter, BBC News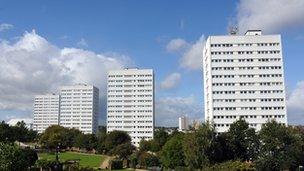 Temperatures could soar to dangerously high levels in some homes insulated under the government's flagship Green Deal scheme, experts have warned.
Energy-saving measures designed to save on winter fuel bills and protect the environment could pose a risk to health during summer heatwaves, they add.
The government says it is aware of the problem and is taking steps to prevent overheating in Green Deal properties.
Homes in densely populated urban areas such as London are most at risk.
Heat can build up during the day and has nowhere to escape at night leading to poor air quality and a greater risk of heat stress for the occupants which, in extreme cases, can kill.
Prof Chris Goodier, of Loughborough University's department of civil and building engineering, said it was vital that homes in the UK better insulated to help meet carbon emission targets and save on winter fuel bills.
But he said the risk of overheating had been overlooked in the "big rush to insulate and make homes airtight", particularly as more extreme weather events, including heatwaves, are being predicted for the UK by meteorologists.
"Overheating is like the little boy at the back of the class waving his hand. It is forgotten about because the other challenges are so big," he told the BBC News website.
Research by Professor Goodier and Prof Li Shao, of the University of Reading, suggests top floor flats in 1960s tower blocks, and modern detached houses were most at risk, particularly if they were south facing.
Heat was likely to have the biggest impact on elderly or infirm people who remained at home all day, the research suggests.
"If you are in the wrong type of house, facing the wrong way, in the wrong street and you don't deal with heat in the right way, it is a problem," said Prof Goodier.
"Particularly for the elderly. They are going to suffer. Suffering means they are going to die from overheating."
Under the Green Deal, householders take out loans to finance improvements such as double-glazing, loft insulation or more efficient boilers. The idea is that the energy savings they make should more than compensate for the repayments.
According to research by a group of leading engineering and climate change experts, published last year, "Green Deal measures could create new problems in the future, with inappropriately insulated properties experiencing poor indoor air quality and significant summer overheating."
It said the increased likelihood of summer heatwaves could lead to rise in heat-related deaths from 2,000 to 5,000 per year by 2080 "if action was not taken".
But Prof Goodier said it was not always possible to predict which houses were most at risk from overheating, saying: "The problem for DECC and the Green Deal assessors is that is such a complex problem."
He said there were simple measures anyone could take - whether living in a well-insulated home or not - to keep heat levels down, such as keeping windows closed during the day to trap cool air and opening them at night.
Fitting shutters to windows and painting exterior walls white - both common sights in Mediterranean countries - would also help, but were unlikely to be widely adopted in the UK due to the relative rarity of heatwaves.
Anastasia Mylona, adaptation science officer at UKCIP, an organisation based at Oxford University which carries out research into mitigating the effects of climate change, said there was a danger of "over-insulating for the winter" in the UK.
"The crucial thing we are looking at, at the moment, is government initiatives such as the Green Deal,
"They are taking very effective measures to protect against winter temperatures but by doing that they increase the risk of overheating."
She added: "We have repeatedly spoken to Decc, through the university, and we have presented various research results which show it is a risk. I think they are starting to realise that this is a problem."
In a statement, the department said: "The real problem facing our nation's draughty homes is a lack of adequate insulation and energy efficiency in the colder months. The Green Deal is giving households a new way to fund improvements, helping them protect themselves against rising energy bills and keep homes warm and cosy in the autumn and winter.
"If energy efficiency measures are installed appropriately, overheating should not be a common problem and there's guidance available for those involved in the Green Deal."
It also said: "Decc is working with experts and other government departments to understand the potential risk of overheating in retrofitted homes and ensure that the energy efficiency supply chain, including those working within the Green Deal, are aware and guidance is provided on homes which are most likely to be vulnerable and what steps could be taken to minimise any risk of overheating."
Only four people have signed up to the Green Deal since it was launched six months ago but Decc says that number is expected to increase with more finance in place.
In total it said there had been 38,259 Green Deal assessments, where customers are given initial advice about what energy improvements they might be eligible for.
Of those, 241 households have confirmed they would like to proceed with work.
Related Internet Links
The BBC is not responsible for the content of external sites.