NHS 'must get tough on consultants'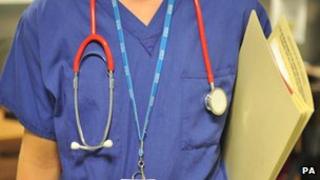 Failings in care in England can be directly linked to the NHS's inability to properly manage hospital consultants, MPs say.
The warning was made by the Public Accounts Committee after it studied the impact of a new contract in 2003.
The MPs said problems with working hours and bonuses worked against the interests of patients - and urged the NHS to get tougher on doctors.
But the criticisms have been rejected by the British Medical Association.
The cross-party group found that since the contract was introduced a decade ago, pay had risen by between 24% and 28% for the 40,000 consultants working in the NHS.
'Barbed rhetoric'
It also noted the deal had allowed doctors to refuse to work during evenings and weekends, prompting trusts to fork out up to £200 an hour in overtime payments or rely on locums, which was not good for continuity of care.
And it highlighted the bonus system - known as clinical excellence awards - which was being given to 60% of consultants despite it being aimed at rewarding those who perform over and above what is expected.
The report was also critical of the way consultants were being managed - nearly half of trusts were not assessing if consultants were meeting their objectives.
It concluded the failure to implement a proper culture of performance management was a "crucial factor" in poor standards of care, such as that seen at Stafford Hospital.
Committee chairman Margaret Hodge added: "This nonsense highlights how badly consultants' performance is being managed."
Gill Bellord, of NHS Employers, said: "The report raises some important issues about care for patients, which are of increasing concern."
She said the organisation had begun talks with the BMA about what changes needed to be made, adding: "It is time to refresh the contract."
But Dr Paul Flynn, the BMA's consultants leader, said: "The barbed rhetoric is particularly unhelpful at a time when we are trying to come up with some broad principles for potential negotiations.
"Doctors are crucial to innovation in the NHS, and their work not only improves quality, but also frequently saves taxpayers' money."