Kim Howells warns Ed Miliband over union selection powers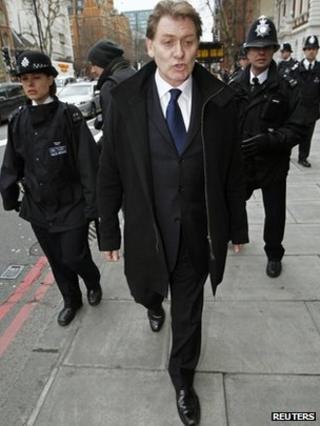 Ed Miliband has been warned by former minister Kim Howells that he must act to avoid Labour being seen as a party of vested interests.
It follows claims that the Unite union sought to "stitch up" the selection of an election candidate in Falkirk.
Mr Howells told the BBC: "There are many people in the trade union movement who feel that if we pay the piper we are going to call the tune."
Unite boss Len McCluskey has accused Labour of a "smear campaign".
Last week Labour took control of the process of selecting a replacement for Eric Joyce - who is stepping down at the next election - after it said it found evidence of unions packing local membership lists.
Labour is now choosing its candidate from an all-woman shortlist and no-one who joined Labour after 12 March 2012 - the day when Mr Joyce announced he was standing down - will be able to take part in the process.
Mr Howells told BBC Radio 4's The World this Weekend that the Falkirk row had exposed what he described as "special interest politics" which was part of what he called an "old order".
He said the Labour leader had to "face up to it", adding that he believed the internal confrontation "threatens the whole reputation of the Labour Party".
'Loaf of bread'
Mr Howells said it would be "a gift to the... Tories and the Lib Dems" if Mr Miliband "ducked" the issue.
The former foreign office minister ended by saying "if Labour's going to win the another general election and win cleanly, then it's got to change its constitution and its way of selecting candidates".
In response to the decision last week by the central party to take over the selection process, Mr McCluskey said Unite was considering legal action against Labour.
He also cast doubt on Labour's election chances without offering a more radical alternative to the coalition government's austerity policies.
In a letter to members he added: "It is certainly our belief that Labour needs more trade unionists in parliament, as opposed to seats being handed out on a grace-and-favour basis to Oxbridge-educated 'special advisers', but we make no apology for that.
"Labour's future depends on it becoming more representative of the communities it seeks to represent."
His view on types of candidate was backed up on the Radio 4 programme by GMB general secretary Paul Kenny.
In a possible jibe at Ed Miliband - who used to be an adviser to Gordon Brown - Mr Kenny said the party had enough "lawyers and special advisers" as candidates.
He said it needed "more people who know what it is to buy a loaf of bread".