E-borders: Bill for legal battle with Raytheon due soon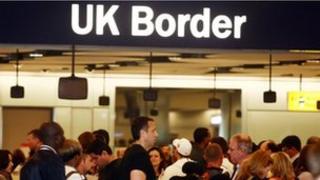 The Home Office has indicated a highly secret dispute with a contractor that could cost taxpayers hundreds of millions of pounds is drawing to a close.
The department's accounts show the controversy about border technology has already cost at least £150m.
The US technology firm Raytheon decided to sue the government for £500m after it was sacked from the e-Borders project shortly after the general election.
Launched by the last Labour government, e-Borders was designed to collate and store on a single database information about all passengers who enter and leave the UK.
The dispute has played out in absolute secrecy at a private court for arbitration.
The government has refused to answer detailed questions because the process is confidential.
But Home Office minister Mark Harper said arbitration had entered the "decision phase".
This could take months but it is understood to be the final stage.
The total bill to the taxpayer may then be revealed.
The Home Office terminated the contract with Raytheon in May 2010 saying it had no confidence in the supplier to address problems with the system.
Raytheon said, in a 2011 letter sent to the Home Affairs Select Committee, the government's targets and objectives changed repeatedly though the course of the programme, which covered both Labour and coalition governments.
The 2010 election saw those targets and objectives change significantly, added Raytheon.
In a written parliamentary answer, Harper revealed the Home Office had not set aside any funds to cover the potential costs of the arbitration or liabilities.
But the department wrote off £156m in relation to the project during 2010/11 financial year.
Termination of the contract and decisions that followed resulted in an "impairment charge" to the accounts of £207.5m, of which £156.3m was paid.
The accounts show the final cost cannot even be estimated.
They say the Home Office is confident it will be successful in the arbitration, but the issue has been disclosed as a "contingent liability".
They add: "Due to the complexity of our claim and Raytheon's counterclaim we are unable to quantify the amount of this contingent liability."
The government is expected to tender for new contracts this summer.
In a speech in 2012, Home Office minister Damian Green said the government would work to "provide a genuinely secure, fluid and complete e-border for the United Kingdom".
But no timescale has been set for completing the programme.
The Labour MP Frank Field who has asked parliamentary questions about the project said: "We are hopefully at the end of the beginning. We're certainly not in the final stages."