MPs' expenses watchdog spends £400,000 on legal fees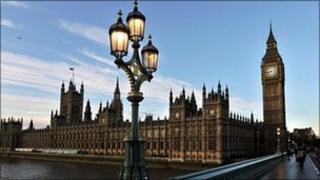 The body overseeing MPs' expenses spent almost £400,000 on legal fees in three years, according to official figures.
The Independent Parliamentary Standards Authority (Ipsa) said it paid out £395,717 between 2010 and 2012, mainly on legal advice.
The figures were revealed by Ipsa in response to a written question from shadow justice secretary, Sadiq Khan.
Ipsa was set up to monitor MPs' pay, expenses and pensions in wake of the Westminster expenses scandal.
Mr Khan had asked Ipsa for its 20 highest amounts paid for external legal advice in the three-year period.
Complaints
In a written reply, Ipsa chief executive Andrew McDonald said: "It is not possible to separate the costs of legal advice from the costs of other services provided by lawyers."
He said the body spent £187,755 in 2010, £64,897 in 2011 and £143, 064 in 2012.
An Ipsa spokesman said the bulk of the fees was spent on legal advice to ensure changes to the system - such as the body's ongoing review of MPs' remuneration - are compliant with regulations.
It has also been involved in legal battles with a number of MPs over expenses claims.
Ipsa, set up in 2009 at a cost of £6.6m, has proved unpopular with many MPs who say it is inefficient, expensive to run, and that its behaviour towards members has been heavy-handed.
Earlier this month it was revealed that 36 MPs had complained to Ipsa since 2010, lodging a total of 71 official complaints.
A Commons Committee recently rejected further cuts, proposed by the Treasury, to Ipsa's running costs.
The body is required to cut its operational costs by 5% each year but the Speaker's Committee for Ipsa - chaired by Speaker John Bercow - said there was not sufficient capacity for a fresh budget squeeze.