Nadine Dorries to stop claiming parliamentary expenses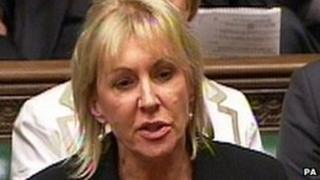 Nadine Dorries is to stop claiming expenses as an MP, saying it will put her in a "stronger position" to argue for the existing system to be scrapped.
She is to give up about £3,040 a month in expenses for accommodation, council tax, travel costs and meals.
The Mid Bedfordshire MP is currently being investigated by expenses watchdog Ipsa and the standards commissioner.
She told the Bedford Times and Citizen she had done nothing wrong but the probes were "stressful" for her staff.
In 2010, Ms Dorries was cleared of any wrongdoing after an investigation by the standards commissioner into expenses for second homes but is currently the subject of two further investigations.
'Above the parapet'
Ipsa is currently looking into the MP's claims for travel and subsistence and accommodation expenditure, while the commissioner is investigating the registration of her fee for her appearance on the reality TV show I'm A Celebrity Get Me Out Of Here.
The MP claims that she has personally been paid no fee for the show. Her decision to go on the show in Australia led to her having the Conservative whip withdrawn for six months.
Ms Dorries will now use her £66,396 parliamentary salary to pay for the expenses, which also include entertaining constituents, and the council tax and utilities for her Westminster home.
She told the newspaper: "I feel that the best thing to do is to remove all claims and I'm lucky because I've got personal support and can do that. I've got a great partner.
"I'm going to work for free, I have to live in Bedfordshire because it's what my constituents expect from me, but as I sit on and chair committees I have to have accommodation in Westminster."
'Millionaires or paupers'
The MP said she was taking the decision to spare her staff the stress of having to go through further investigations and suggested she had become a "target" for complaints about her expenses.
"For me the problem is the moment I put my head above the parapet and campaigned to have the abortion limit reduced from 24 weeks to 20 I became a target," she added.
"Even though I'm completely innocent it's tough for my office staff because they are the ones who are responsible for compliance.
"Every time there is an investigation it goes on for months and I can't keep putting them through it. I've had to take this decision - it's been horrible to see how stressed they have been, even though the investigations always fully cleared me."
On her blog, Ms Dorries said she would be campaigning for a fundamental overhaul of the expense regime.
"I have long said that under the present system, before long, Parliament will be a place of millionaires or paupers. I loathe the expenses system and believe it should be scrapped and MPs paid one flat-rate fee.
"Whilst I draw personal expenses I cannot argue for reform of the system or put forward the case to scrap expenses. Not drawing expenses puts me in a stronger position to be able to do this."
The amount MPs could claim for second homes was capped after the 2009-10 scandal and claims for mortgage interest were scrapped altogether, but many MPs remain unhappy with the system and the conduct of Ipsa.
In 2008, the standards watchdog found the MP responsible for minor "technical breaches" of the rules regarding the funding and identification of her blog but took no further action after Ms Dorries apologised.