Spending Review: Cuts 'jeopardise' councils' future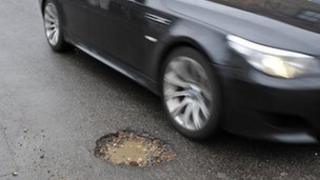 Another round of local authority budget cuts announced in the Spending Review will "jeopardise" the future of some councils, it is being claimed.
The Local Government Association said the planned 10% squeeze in 2015-16 was "over the top", coming after the 28% funding cut in 2011-15.
But council leaders have welcomed plans to give local authorities a £2bn slice of the social care budget.
Ministers said this and other changes would reduce cuts to 2.3%.
The overall amount of money available to councils is set to fall from £54.8bn in 2014-15 to £54.5bn in 2015-16,
Direct funding from Whitehall to town halls will fall by £2.1bn to £23.5bn as part of the £11.5bn cuts announced by Chancellor George Osborne on Wednesday.
'Financial breakdown'
David Sparks, the LGA vice-chairman, said the announcement meant some councils would have seen their funding cut by 40% in five years and were now facing "financial breakdown".
It was "inevitable" that in the future they would have to cut non-statutory services, such as road maintenance and cultural activities, he told the BBC News Channel.
"It is not right that local government should take what will be for many people a 40% cut. That is just over the top and it jeopardises the whole point of what we do in relation to our services and our communities.
"People will wake up in two or three years' time and in many cases their local council will not be there as they know it."
He criticised Local Government Secretary Eric Pickles' decision to extend the freeze on council tax bills for a further two years by offering £833m in subsidies to those councils that do not raise rates.
"Because Eric Pickles has not let councils raise council tax over the last couple of years it has distorted the financial base of local government, and that is why we have to have all of these cuts," he added.
'Immense pressure'
But Mr Osborne told MPs that local government had already "taken difficult decisions to reduce staff numbers, share services and make savings" but it was right that it continued to make the same "sacrifices" as central government.
The chancellor said a range of financial assistance for councils, including funding to help them to deliver integrated social care in partnership with the NHS, to encourage collaboration with neighbouring town halls, and to support the troubled families initiative, meant the actual squeeze in spending would be less than 3%.
LGA chairman Sir Merrick Cockell said the social care announcement was a "start towards addressing the very real crisis in providing care to some of the most vulnerable members of society".
But Labour said it was wrong to impose further cuts on councils in the "areas of deepest need".
One local government analyst said town halls were likely to come under "immense pressure" and faced having to make major changes in the way they functioned.
Ian Washington, of Deloitte, said: "After today, meeting statutory responsibilities and maintaining basic levels of service is likely to mean more councils sharing resources with health and police, greater involvement of the private and voluntary sectors in delivery and, possibly, full operational mergers between councils.
"To date this has covered services like finance, IT and HR, but will now need to go much further."
The budget of the Department for Local Government and Communities itself will be cut by 10%.