NHS chief Sir David Nicholson admits culture of 'denial'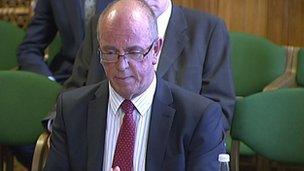 The NHS in England has a culture of denial and defensiveness when it comes to handling complaints from patients, its outgoing head has admitted.
Sir David Nicholson said efforts were underway to change that in the wake of the Mid Staffs and Care Quality Commission scandals.
But he told a committee of MPs some NHS managers were struggling to adapt.
He also said he regretted not listening to patients when he was head of the body overseeing Mid Staffs.
Sir David has faced a high profile campaign for him to quit over his involvement in the Mid Staffs scandal, in which high death rates and patient mistreatment were ignored.
Giving evidence to the public administration committee, he echoed criticisms in the Francis report into care at Mid Staffs and comments by Health Secretary Jeremy Hunt, who has accused NHS managers of being too defensive, after recent revelations about serious failings at the Care Quality Commission.
Sir David told the MPs: "I do think there a real issue about defensiveness and a lack of transparency in the way that we work."
Asked whether complaints should be viewed as a "good" rather than a "bad" thing in the NHS, Sir David said: "There has been a tradition and a culture in the NHS, for some time which has been counter to that."
Referring to his own time as a complaints manager in an NHS trust, he said: "There is a very strong medical legal litigation culture in organisations and at that time, I know, the answer to any complaint was to deny - because of the potential litigation responsibilities for that.
"So you have got a culture of that in the NHS which... you have got to tackle."
He said "reputation management" was also more of a concern that it should be when failures came to light, which he said was part of the problem at Mid Staffs.
"There is quite a lot of pressure on you as an individual, particularly from your staff, to represent and support your organisation publicly. So they are quite powerful things to combat. My argument is they absolutely have to be combated."
He said there was a "dramatic" transformation going on in the NHS's relationship with patients, with a more "open" and transparent approach to publishing data and in the organisation's own complaint handling systems.
But he added: "The leadership of the NHS - not everywhere - is having difficulty coming to terms with that and is slightly behind it."
He said NHS managers had been more concerned with meeting targets and pleasing their bosses, such as him, than responding to the needs of patients.
Sir David was in charge of the regional health authority responsible for Mid Staffordshire for a short period while patients were being mistreated.
Reflecting on his time in that role, he said: "I had an opportunity to meet patients' groups at some stage and I didn't take it... that is the only thing I regret."
He said he "felt apologetic" for that but said the data on mortality rates "did not cross my desk" - a situation he said would not happen to managers in the future.
Earlier, an article for the NHS England website Sir David attacked the media and social media for a "lack of balance" in its "views and comments" on the NHS.
He has admitted the fact that he had "become the story" contributed to his decision to retire in March 2014, after seven years as the boss of NHS England.