Ed Miliband discusses Syria at National Security Council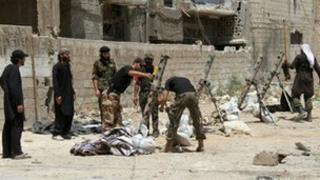 Labour leader Ed Miliband has attended a meeting of the government's National Security Council in Downing Street to discuss the situation in Syria.
It is the second time in three years Mr Miliband has been invited to attend the top level meeting.
Downing Street insisted the move did not mean a decision on arming Syrian arming rebels was imminent.
The government has promised MPs a vote before that happens. Many Labour and coalition MPs are against intervention.
The prime minister's official spokesman said the focus of the National Security Council meeting was the Geneva II process, following the agreement at last week's G8 summit to try to revive peace Syrian peace talks talks in the Swiss city.
'Full participant'
"The discussion focused on how we achieve a political solution that can lead to the political transition that is so important, and to support that process how we put pressure on all sides and how we and our partners can continue to strengthen the Syrian National Coalition in the way that we have been doing," said the spokesman.
Afghanistan, where lead military responsibility was last week handed over to Afghan forces across the whole country, and Iran, where the election of Hassan Rouhani as president has led to hopes of reform, were also the agenda.
Downing Street said Mr Miliband was "a full participant" in the hour-long meeting and was able to contribute to discussions.
The Labour leader was last invited to attend a National Security Council meeting in 2011, shortly after the government decided to take military action against former Libyan leader Muammar Gaddafi.
David Cameron's spokesman said it had always been intended to invite senior opposition figures on an "occasional basis". Labour's deputy leader Harriet Harman attended a meeting of the council in 2010.
A Downing Street spokesman said Tuesday's meeting did not discuss the possible arming of opposition forces in Syria, as some had speculated beforehand and the government position remained the same on that issue - than no decision had been taken.
Mr Miliband has said Labour will only back arming the rebels in Syria if it could be guaranteed that the arms would not fall into the hands of extremists and that such a move would not prolong the conflict.
Mr Cameron has said the government reserves the right to act in the national interest without Parliamentary assent, but MPs have been promised a vote.
At the moment, with MPs in all parties expressing reservations about the strategy, the PM is seen as having a battle to win such a vote.
The National Security Council, which includes defence and security officials and senior ministers, meets weekly and is chaired by Mr Cameron.