EU bat rules 'put future of hundreds of churches at risk'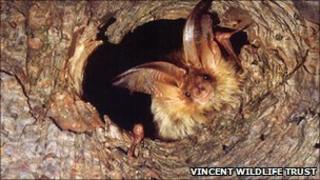 European Union rules to protect bat populations are putting hundreds of bat-infested churches in England at risk, according to an MP.
Tony Baldry - who speaks officially on Church of England issues in the Commons - warned that church artefacts were being destroyed by bat droppings, with some buildings on the verge of becoming "unsustainable" as places of worship.
He said that bats were threatening medieval wall paintings, which had survived "Thomas Cromwell's men... and the ravages of the Reformation".
Mr Baldry, a Conservative MP for Banbury, was speaking in a debate in Parliament's Westminster Hall.
He attacked the European Union Habitats Directive, which he said left churches virtually powerless to move bats from their buildings.
"I cannot believe that the European Commission and the Commissioner would want... to have a situation where within the European Union it is not now possible for congregations to worship in churches which have been going back in this country to the time of (William) the Conqueror because of bat infestations."
The environment minister Richard Benyon said the government was looking at several ways of overcoming the problem.
He said that could include greater use of "acoustic devices" to deter bats.
Protections
But a spokesman for European Environment Commissioner Janez Potočnik cast doubt on the MP's arguments and said churches had the power to deal with the issue in a "pragmatic manner".
"All European bat species are indeed strictly protected by Article 12 of the Habitats Directive, which means that capture, killing, deliberate disturbance and destruction of their breeding sites and resting places is prohibited.
"But member states can derogate from the strict protection based on Article 16 of the Habitats Directive. One reason for doing this would be to prevent serious damage to property.
"The Commission is therefore convinced that it is possible to protect both bats and churches."
Last year there were 362 calls to the Bat Helpline, a Natural England helpline run by the Bat Conservation Trust, resulting in 205 visits by conservation volunteers to offer advice.
Experts say bats only occupy maternity roost sites for a few months each summer and the majority of churches are either not unduly affected or have allowed the animals to share their space by embracing conservation.