MPs consider hacking claims against other industries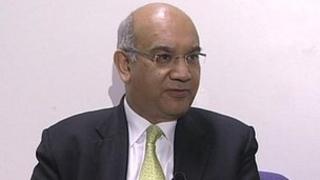 MPs are to examine claims that legal and telecoms firms used private investigators to hack and steal information from rivals and the public.
The Commons Home Affairs Committee is to ask the Serious and Organised Crime Agency (Soca) what it knew about the allegations and to provide information.
This followed claims in The Independent that Soca documents suggested it was aware of such practices five years ago.
Soca said the material was confidential but would be provided "as required".
The agency's responsibilities are due to be taken over by the National Crime Agency in December.
'Confidential'
In 2008, Soca produced a confidential report on the issue of licensing the private investigation industry, which drew on intelligence from police investigations into alleged criminal activity.
It is understood the committee had access to the report during its inquiry into private investigators last year.
According to the Independent, the Soca document in question suggested that legal, telecoms and insurance firms routinely used private investigators to obtain information illegally - with one claiming that they made up 80% of their client list.
Keith Vaz, the Labour MP who chairs the committee, said it had asked the agency for all relevant material when it was conducting its earlier investigation and following a meeting of the committee on Tuesday, had decided to take up the matter again with the force.
"We are requesting from Soca a copy of all the information they hold on private investigators and their links with the public and private sector," he said.
"I have also written to request a list of clients who employed private detectives which obtained information unlawfully."
'On request'
In its report, the committee made recommendations for their future governance of private investigators and urged the setting of tougher penalties for the trade in information obtained by illegal means.
No-one from Soca appeared in person during the inquiry but a spokeswoman said information would be "shared with partners as required".
But she stressed the agency would not comment on leaked documents or specific criminal investigations.
Four private detectives were jailed in 2012 for conspiring to defraud people by "blagging" personal information via persuasive phone calls as part of Operation Millipede. The four were working for private companies, solicitors and individuals.
The Levisohn Inquiry into press standards - triggered by allegations of phone hacking at the News of the World newspaper - did not look into the issue of the involvement of other types of firms as it was outside its remit.
Speaking in the Commons on Monday, Home Secretary Theresa May said suggestions that phone hacking was not confined to newspapers was "worrying" but it was up to the police pursue individual allegations.
Pressure group Hacked Off, which has campaigned for new laws to protect victims of hacking, said it was "opposed to illegal information gathering in all forms" and said alleged criminal conduct should be rigorously pursued by the police.