People's Assembly hears union leaders promise anti-cuts action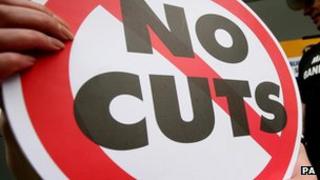 Trade union leaders have promised co-ordinated action against government spending cuts as thousands of campaigners gathered in central London.
The People's Assembly - a coalition of unions, politicians and activists - said ministers were "deaf" to the concerns of ordinary people.
More than 4,000 people gathered at Westminster Central Hall on Saturday.
Unite general secretary Len McCluskey said anti-union laws should not get in the way of strikes against austerity.
The UK's biggest union earlier released results of a survey suggesting many people have employment or money worries and want the government to concentrate on growth and jobs - even at the expense of cutting the deficit.
Change course
Mark Serwotka, who leads the civil service PCS union, called for co-ordinated civil disobedience, protests and strikes.
Addressing leaders of all political parties, Mr McCluskey said: "If it is right to strike against austerity in Greece, in Spain, in France, then it is right to strike against austerity here.
"When Unite members are ready and willing to take that industrial action to make the politicians change course, then we will not let the anti-union laws get in our way."
Over recent months a series of People's Assembly public meetings have been held across the country.
Green Party MP Caroline Lucas told the BBC the meetings were intended to mobilise people against the government's "economically illiterate" polices.
"There are People's Assembly movements building up in towns and cities right across the country so this is the start of something, not the end of it."
Also present were Labour MPs, film director Ken Loach and columnist Owen Jones.
Labour leader Ed Miliband earlier told his party's policy forum it would not borrow to reverse the coalition government's spending cuts.