George Osborne turns down ballad duet offer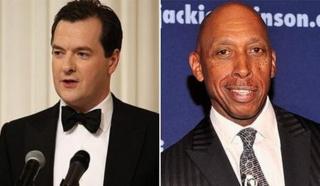 George Osborne has ruled out performing a duet with namesake crooner Jeffrey Osborne, after US President Barack Obama repeatedly got their names mixed up at the G8 summit.
Mr Obama, a fan of the soul singer whose 1980s hits included On The Wings of Love and Love Power, called the chancellor Jeffrey several times.
The real Jeffrey said he was delighted and offered to sing with the Tory MP.
But George Osborne said he would not have done so "if you'd heard me sing".
The opera-loving chancellor is known as more of an aficionado of Wagner's Ring Cycle than heart-rending soft rock.
He was chairing a session on tax transparency at the G8 on Tuesday, when, to his probable bemusement, Mr Obama referred to him three times as Jeffrey.
'Hook up'
According to the Sun and the Financial Times, Mr Obama apologised to the chancellor - who changed his first name by deed poll from Gideon to George as a young man - saying: "I'm sorry, man. I must have confused you with my favourite R&B singer."
Jeffrey Osborne was a member of the band LTD before enjoying a successful solo career.
He had two top 20 hits in the UK in the 1980s and has sung the US national anthem on several occasions before major basketball, baseball and ice hockey games in recent years.
He told BBC Radio 4's PM programme: "I'm flattered that President Obama is a fan of mine. I never knew that.
"You know, I feel a little bad for the chancellor, George: it's probably a little embarrassing for him.
"But I understand he's a singer, so maybe when I come over there to London I can get together with him and maybe do a little duet, we can sing a few notes together and smooth this whole thing over."
On Twitter, the chancellor said Jeffrey Osborne was a "legend" but added: "Jeff, you wouldn't suggest a duet if you'd heard me sing."
BBC Radio 4's World at One have imagined what a musical "mash-up" of the two men may sound like, taking their inspiration from the singer's best-known work and the chancellor's Mansion House speech on Wednesday.
Treasury officials have insisted Mr Obama did know the chancellor's name, and had called him George when they first met at the two-day G8.
But London Mayor Boris Johnson drew attention to the alleged snub during a question and answer session on Twitter. Asked what his favourite karaoke tune was, Mr Johnson replied saying it was "anything by Jeffrey Osborne".
During his weekly Call Clegg radio phone-in on LBC, Deputy Prime Minister Nick Clegg told listeners he had not heard the gaffe.
Mr Clegg also laughed off President Obama's remarks at the G8 summit that described him as "the better looking half of the coalition".
"It was a passing comment," Mr Clegg said. "I think any observer looking at the three of us would conclude that the person who looked the coolest was Obama."
In Parliament, House of Commons Leader Andrew Lansley joked: "I think from the chancellor's point of view it's probably just as well that the President of the United States wasn't referring to him as Ozzy. That would have been worse."
The lead singer of Black Sabbath is not known to have offered a duet.