Tony Blair warns governments against Syria inaction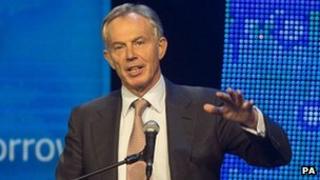 Tony Blair has stated his support for intervention in Syria, warning countries that do not get involved could end up paying a "higher price".
In a speech in Israel, Mr Blair said the UK and its allies would face "ugly choices" when it came to dealing with President Bashar al-Assad.
The former prime minister urged Western leaders not to be deterred from action by short-term political concerns.
He also said the threat of a nuclear-armed Iran had to be "overcome".
The UK and French governments have suggested they could send arms to groups opposing President Assad, but there is considerable opposition to such a move.
Mr Blair - who is the Middle East peace envoy for the "Quartet" of the United Nations, United States, European Union and Russia - gave a speech on political leadership at an event to celebrate the 90th birthday of Israeli President Shimon Peres in Jerusalem.
'Vigour'
He said: "The best short-term politics will often pull in the opposite direction from the best long-term policy."
He added: "Undoubtedly the predominant emotion in the West today is to stay out of Syria; indeed to stay out of the region's politics. But as every day that passes shows, the cost of staying out may be paid in a higher price later."
Mr Blair also said: "We have to be prepared and be strong in defence of our values. It is why Iran's nuclear weapons ambitions and export of terrorism round the region are a threat. We must be determined to confront and overcome that threat.
"Those that truly hold the power in Tehran must know of our determination and feel its vigour.
"Of course, any choice involving military action is fraught. No-one wants it. But a nuclear-armed Iran is the worst choice and we shouldn't make it."
The UK government has not committed itself to supplying Syrian rebels with arms, but it helped negotiate the end of a European Union embargo on sales.
Prime Minister David Cameron has insisted President Assad must go before peace talks can take place.