Ian Livingston to leave BT to become trade minister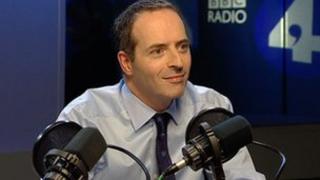 BT chief executive Ian Livingston is to step down in September to become a UK government trade minister.
David Cameron announced the move at Prime Minister's Questions, saying Mr Livingston would succeed Lord Green - the former HSBC chairman - who will stand down at the end of the year.
The Scotsman has been BT chief executive for the past five years.
Mr Cameron said: "I believe he will bring huge talent to a vital national effort."
In a statement to the stock exchange, BT announced that Gavin Patterson, currently chief executive of BT Retail, would replace Mr Livingston as chief executive.
Mr Livingston said: "I am honoured to have been asked by the prime minister to take on the role of minister for trade and investment, with a remit of helping the growth of British companies and the country's future economic success.
"It has been an incredibly hard decision to leave BT at such an exciting time. However, the opportunities ahead and the strength of the management team that Gavin will lead mean that the company is in a great position.
"I am immensely proud to have led this company over the last five years. We have made huge progress over the last few years but I know there is still so much more that BT can and will do."
Mr Livingston will join the House of Lords prior to taking up his front-bench government post in December.
Sir Michael Rake, BT chairman, said: "Ian has done a tremendous job in transforming BT. His decision to accept a government post demonstrates the sense of public service which many of us know to be characteristic."
Mr Patterson said: "We have great opportunities ahead and are well placed to take advantage of them, in the UK and internationally. We have the people, the technology and the plans we need to build on our current successes. I look forward to leading a dynamic team to ensure we do just that."
At 13:30 BST, an hour and a half after the announcement, BT's shares were down 2.9% on the day to 310p.