Speaker Bercow: MPs will vote before UK arms Syrian rebels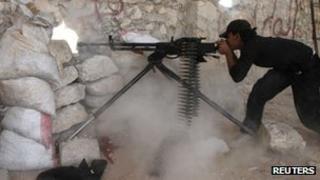 MPs will get a vote on whether the UK should arm Syrian rebel forces before such a decision is implemented, Commons speaker John Bercow has said.
Foreign Secretary William Hague has said the government would not take such action "against the will" of MPs.
But he has stopped short of promising a vote on a substantive motion, which would, in theory, bind the government to abide by the outcome.
Mr Bercow told MPs Mr Hague had now made such an "explicit commitment".
More than 80 Conservative MPs have written to David Cameron urging Parliament to be consulted if the UK decides to provide any weapons.
Many Labour and Lib Dem MPs are also thought to have reservations about arming the rebels, although Mr Cameron has repeatedly stressed that no decision has been made.
'Undemocratic'
Labour MP and former minister Peter Hain raised a point of order in the Commons on Tuesday, after Foreign Office questions, to ask whether there was a way MPs could force a vote on a substantive motion before Parliament broke for the summer recess.
Mr Bercow said Labour could table an Opposition Day motion or an individual MP could force a debate and vote through the Backbench Business Committee.
He said: "I must say that I have the sense that the government is hinting that it wouldn't dream of executing a policy decision of the kind that is being considered without first seeking a debate in the House and a vote on a substantive motion.
"That would obviously be the democratic course. I think it is the democratic course on a substantive motion that the government has in mind.
"I am not sure that there was any other idea ever in their minds but I feel sure that if it was in their minds it was speedily expunged from them as undemocratic and indeed inappropriate."
As Mr Bercow spoke, Mr Hague was seen to be nodding, indicating that he agreed with the comments.
Mr Bercow said Mr Hague's apparent agreement could be seen as an "explicit commitment" that the government would hold a vote on a substantive motion after Tory MP Julian Lewis raised a further point of order.
Libya offensive
Mr Lewis said: "Is there any way in the rules of order that I can place on the record that the foreign secretary was nodding vigorously during your remarks?"
Mr Bercow replied: "You have done that.
"You and others will take that as an explicit commitment by the foreign secretary that there will be no implementation of such a decision without the prior consent, in the form of a vote on a substantive motion, in this House of Commons.
"I think we are now clear. Happiness is universal in the chamber."
Labour leader Ed Miliband last week asked Prime Minister David Cameron to confirm that "there will be a vote in this House on a substantive motion, in government time, with the recall of Parliament from recess if necessary".
Mr Cameron told Mr Miliband: "I have always believed in allowing the House of Commons a say on all of these issues.
"It was right when it came to Iraq. It was right when we made the decision to help the opposition in Libya, and it would be right in the future as well for that to happen.
"Let me stress once again that we have made no decision to arm the rebels in Syria."
The vote on Libya, on 21 March 2011, came after the decision to launch an offensive - the first attacks were in the early hours of 20 March, with Mr Cameron confirming that British planes were in action over Libya that morning.
MPs voted a few days before the Iraq war began in 2003 - a vote which at the time was seen as having the power to halt UK involvement in the assault on Saddam Hussein's regime. It was also thought likely Tony Blair would have had to step down as prime minister if he had lost the vote.