Roads likely to become dangerously potholed, say councils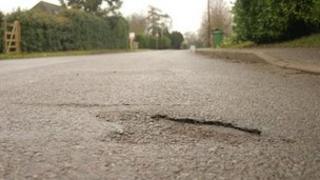 Much of England's road network faces becoming "dangerously strewn with potholes or collapsing completely" if funding cuts are not reversed, councils have warned.
The Local Government Association said declining highways were already costing businesses £5bn a year, with the repairs backlog already growing.
It called investing more money in transport a "no-brainer".
The government said it was committed to maintaining "first-class" roads.
In its report the LGA said council teams had fixed 2.2 million potholes last year - 500,000 more than the previous year.
But it added that the backlog of repairs had increased, with an estimated £10.5bn still needing to be spent and one in five roads classed as being in "'poor condition".
'Short-termist'
The LGA blamed "decades of under-investment from government" and recent freezing weather and flooding, which had caused damage worth an estimated £1bn.
It said: "Further severe weather could now lead to a tipping point in many areas where roads will become so damaged they will have to close."
The LGA has written to Chief Secretary to the Treasury Danny Alexander, asking him to provide greater capital funding for road maintenance "to turn around the spiralling decline".
Peter Box, chairman of its economy and transport board, said: "The case for proper funding to resurface our roads is a no-brainer.
"The short-termist approach of successive governments of underfunding local road maintenance, coupled with severe weather over recent years, has taken its toll. Now we're facing unprecedented budget cuts, things are only getting worse - something plain for all drivers to see."
He added: "Despite their best efforts, many councils are trapped in a false economy of reactive repairs while managing a spiralling compensation bill, all the time praying it doesn't flood or freeze.
"Government cutting funding for roads is a very high-risk strategy as the longer you keep simply patching up a deteriorating surface, the more vulnerable it becomes to severe weather.
"Unless something changes, we risk swathes of Britain's road network becoming dangerously strewn with pot-holes or collapsing completely."
Transport minister Norman Baker said: "This government is providing councils with over £3.4bn between 2011 to 2015 to maintain their highways
"We are also working with the sector and sponsoring a £6m highways maintenance efficiency programme to ensure that councils work together to deliver a first-class service to their residents, at the same time as saving money."