Job centres: MPs say criteria for measuring success are 'flawed'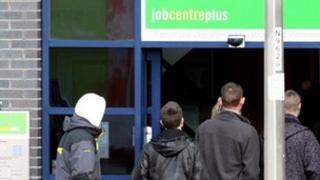 The criteria used to assess the success of Jobcentre Plus in helping people find work are "flawed", MPs have said.
The performance of 740 UK job centres is currently judged on the number of people who stop claiming benefits.
But in 40% of cases, the Commons Public Accounts Committee said, officials did not know if former claimants had found work or not while the record of individual job centres was not rated.
Ministers said the job centres were regarded as "good value for money".
In their report, the cross-party committee also called for more assistance for disabled claimants and said vulnerable individuals could struggle as more benefit claims - including the new single universal credit - were moved online.
Jobcentre Plus employs 37,000 people and costs £1.4bn to maintain. Staff handle about 3.6 million new claims for jobseeker's allowance every year.
'Coped well'
Assessing their performance in 2011-12, the MPs said the network had "coped well" with the increase in claimant numbers caused by the economic downturn by focusing more resources on determining eligibility and processing payments.
But the committee said clearer targets needed to be set based around the number of people finding work and performance figures for individual centres should be considered.
The risk of emphasising any fall in the number of people claiming benefits was that it would lead to "unfair sanctions", the committee said, such as the removal of benefits from those not looking for work for an extended period.
"On its own, the number of people who stop claiming benefits is a flawed measure of how effective Jobcentres are," said Margaret Hodge, the Labour MP who chairs the committee.
"The Department for Work and Pensions needs to be clear how it will measure the performance of Jobcentres under universal credit and understand what happens to claimants. The department needs this information to see whether its interventions are achieving a long-term reduction in the number claiming benefits."
At the moment, 40% of claimants find themselves back on benefits within six months and 60% within two years.
'Risk of parking'
The MPs said they supported efforts to give individual job centres more leeway to address local priorities but warned that this should not be at the expense of them "parking" the most difficult cases.
It said there was evidence that those on employment and support allowance - formally known as incapacity benefit - received a worse service than those on jobseeker's allowance.
Citizens Advice said too many jobseekers were having their benefit withdrawn "because they don't understand what is required of them".
In a statement, the Department for Work and Pensions - which oversees Jobcentre Plus - said it was focused on ensuring the unemployed got the maximum support to find employment.
"Every day advisers are successfully helping people move off benefits and into work, and it is welcome that the report recognises Jobcentre Plus is good value for money," a spokeswoman said.
"It is encouraging that employment has risen by more than 400,000 in the past year while the number of people claiming jobseeker's allowance has been falling for the last seven months."