G8 summit: George Osborne unveils tax register plan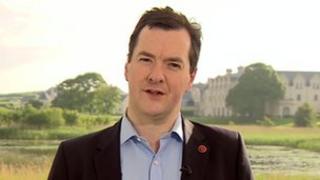 Chancellor George Osborne has announced plans to stop multinationals hiding their profits from the taxman in shadowy offshore "shell" companies.
He pledged to set up a UK register of beneficial ownership - which could be open to the public - to make it clear who was gaining from such arrangements.
The US has also backed the idea, although it is not yet clear if all G8 nations will agree to the plan.
Mr Osborne said more progress had been made in 24 hours than over "24 years".
Tax, trade and transparency - dubbed "The Three Ts" - were placed at the top of the UK's agenda for its presidency of the G8, which includes the UK, US, Germany, France, Italy, Russia, Canada and Japan.
'Step change'
But the summit in Northern Ireland has been overshadowed by disagreements over the conflict in Syria, with Russian president Vladimir Putin coming under pressure from western leaders to agree a joint statement or face isolation.
Mr Osborne said the final day of the summit would see a joint declaration on tax transparency, which would signal a "step change" in the way the international community viewed tax avoidance.
"You're going to see concrete achievements today on changing the international rules on taxation, so individuals can't hide their money offshore and companies don't shift their profits away from where the profit is made," Mr Osborne told BBC Breakfast.
The UK last week unveiled a deal with its crown dependencies and overseas territories - including the Channel Islands, Gibraltar and Anguilla - to start sharing more information on which foreign companies bank their profits there.
About a fifth of offshore tax havens - used by multinationals to shelter cash from the tax authorities - are British dependencies.
"Of course Britain's got to put its own house in order," said Mr Osborne, adding that the government would launch a consultation on whether the register should be published or just be available to Her Majesty's Revenue and Customs.
In an "action plan", published at the G8 summit, the UK government said it would ensure companies obtained accurate and current information on their beneficial ownership - who ultimately profited from their activities.
And it said ministers would amend the Companies Act 2006 to set up a central register of information on beneficial owners, to be run by Companies House.
It also pledged to tighten up the supervision of company formation, improve corporate transparency and carry out a review of money laundering and terrorist financing risks, to be completed by 2014.
'Smart casual'
Mr Osborne said the global tax rules should be updated to "make them fit for our century".
"Companies should know who owns them. Believe it or not a lot of companies do not know who owns them and that's a huge opportunity for tax evasion.
"But we also want to know big international companies... pay their taxes where the profits are generated.
"And finally, we want to make sure that individuals don't use the global financial system to hide their wealth and avoid paying, or evade paying taxes where they should."
Prime Minister David Cameron has committed to making "fighting the scourge of tax evasion and aggressive tax avoidance a priority". The UK has said it also wants to ensure anti-money laundering and counter-terrorist financing measures are effective, and help poorer countries collect tax revenues.
The US also pledged to press for legislation to cut down "criminal" use of shell companies by forcing firms to declare their actual or beneficial ownership.
Earlier in the two day gathering, Mr Cameron raised a few eyebrows on Monday when he dispensed with his tie and jacket to formally welcome the other world leaders to the luxury golf resort beside Lough Erne, where the two-day summit is being held.
Mr Osborne, who also adhered to the "smart casual" dress code as he arrived to take part in Tuesday's tax discussions, said the "informal" nature of G8 meetings was one of their strengths.
"Basically I am doing what I was asked to do, which is turn up in smart-casual wear," he told BBC Breakfast.
"Despite the fuss that goes with having a conference like this, in spite of the huge media presence, actually when you get into the hotel it's quite intimate and informal.
"This is actually an extraordinary opportunity to get things done where perhaps when things are more formal and people are in more entrenched positions that's more difficult."