Syria: Cameron warns of false choice between Assad and extremists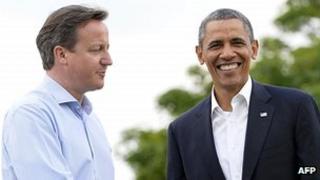 Find the moderates. That has been David Cameron's instruction to his ministers and to Britain's diplomats.
He insists that Britain does not have to choose between backing what he calls President Assad's murderous regime or the rebels who Boris Johnson called Syria's maniacs.
It is, the prime minister claims, in our interests to back those who can help re-build Syria after its war ends - those who the foreign secretary warned today face possible extermination.
Even before the intervention of the Mayor of London, it was clear Mr Cameron simply did not have the support in his party or his coalition to move beyond assisting, training and aiding those people.
His hope is that they will be armed by the United States. His problem is whilst he lacks the support to act President Obama has, so far, given every appearance of lacking the enthusiasm to do so.
This summit is an advert for the tranquillity of Northern Ireland - a place scarred for so long by conflict - but it is also a reminder that the world is deeply divided on how to handle what William Hague today called the worst human tragedy of our times.