PM explains 'relatively honest police' remark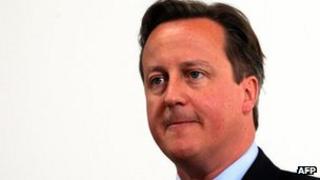 David Cameron has sought to explain a comment in which he implied that UK policing was "relatively" honest.
The comment was made in the context of the difficulties of building democracies in countries like Libya.
He told Sky News it was important he did not claim to have a perfect system, after the Leveson inquiry and political scandals.
The Police Federation of England and Wales said it was satisfied by his explanation of the "clumsy" remark.
In a wide-ranging interview ahead of the G8 summit, Mr Cameron said there was still a lot of work to do in Libya to build state institutions.
He told Sky: "We... sometimes take for granted a bit in the West, you know, that you have a relatively honest police force, a standing Army, you have the institutions of government so things can get done.
"Some of these countries that were run by dictators literally had no proper functioning institutions of the state."
'Not perfect'
Questioned about the police comment, he said: "What I meant was, I'm not saying everything about our country is perfect, we've had cash for questions problems in our Parliament, we have problems following all the Leveson stuff about police who have done bad things, journalists who have done bad things and so on."
He added he did not want to "get into" the "plebgate" row involving his former chief whip Andrew Mitchell, now the subject of a police investigation - after the MP was accused of describing police as "plebs".
"All I was trying to hint in that answer is we should never say we have some sort of absolutely perfect system. The point I was making is we can sometimes not understand just how broken the institutions are in some of these countries."
But he said Libya could still be "a great success story".
The remark attracted some criticism on Twitter. But the Association of Chief Police Officers said it had no comment.
Steve Williams, chairman of the Police Federation which represents officers up to the rank of chief inspector, said: "The description was clumsy in that it has been interpreted in a way that I am sure is far from what he meant.
"I am satisfied by his further clarification that he was intending to demonstrate the differences between the West in general and unstable regimes."
The G8 summit begins in Northern Ireland on Monday and will be attended by the Libyan prime minister, Mr Cameron said.