Sir Menzies Campbell heads political Birthday Honours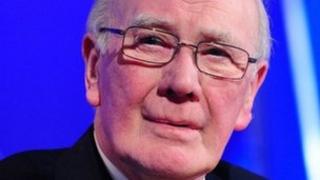 Sir Menzies Campbell has spoken of his "surprise" and delight at being included in the Queen's Birthday Honours list.
The former Lib Dem leader has been made a Companion of Honour.
Tory MP Edward Leigh, former chairman of the Public Accounts Committee, and former Liberal Democrat minister Andrew Stunell both receive knighthoods.
And actor Tony Robinson, of Blackadder fame, has been knighted for public and political services.
Best known for his portrayal of downtrodden servant Baldrick in the BBC sitcom, Robinson is a longstanding Labour activist and former member of the party's ruling National Executive Committee.
'Privilege'
He has also been involved in several international justice campaigns, as well as raising issues faced by the elderly, in his role as an ambassador for the Alzheimer's Society.
Sir Menzies, a former Olympic sprinter who once held the British 100m record, said he was not expecting to be included in the Birthday Honours.
"It is a complete surprise. I am delighted and honoured.
"Other contemporary holders include Lord Coe and Judi Dench, and it is a privilege to join such company."
Sir Menzies, who led the Liberal Democrats between March 2006 and October 2007, is described in his Birthday Honours citation as "one of the most respected politicians of his generation".
The Cabinet Office began published citations, explaining why recipients have been chosen, for the first time at the New Year's Honours as part of efforts to make the system more transparent.
Edward Leigh, MP for Gainsborough, in Lincolnshire, gained a reputation for tough questioning of senior civil servants and ministers in his role as chairman of the accounts committee, the spending watchdog.
The National Audit Office estimates he saved taxpayers about £4bn during his eight-year tenure.
He stepped down after the general election, following the convention that the chair of the committee should be held by an opposition MP, but continues to speak out on religious and EU matters.
'Impressed'
The barrister and father of six was Baroness Thatcher's private secretary when she was leader of the opposition in the 1970s.
Mr Stunell, who was part of the team that negotiated the coalition agreement in 2010, said he wanted to carry on with good works.
"Well, I guess I am pretty impressed," said the MP for Hazel Grove, Greater Manchester, of his knighthood.
"I know it is a bit of a mundane thing to say but it is an obvious honour that Her Majesty thinks it is a good thing to give to me.
"It is a real honour and I would like to think that I would still have the opportunity to do more good work to justify it."
Asked whether he would ask colleagues to refer to him by his new title, he said: "I shall keep it at a modest level."
Married with five children, the 70-year-old former Baptist lay preacher has worked on overseas aid projects and was a minister at the Department for Communities and Local Government in 2010, before leaving the role last year.
Other figures from the world of politics to receive a knighthood include former top civil servant Jonathan Stephens. who was closely involved in the Northern Ireland peace process and worked with all sides to deliver the Good Friday Agreement.
Andrew Dilnot, chairman of the UK Statistics Authority, recently praised by a committee of MPs for holding ministers to account for their use of official figures, and Prof David Metcalf, chairman of the Migration Advisory Committee, also receive knighthoods.