Liam Byrne shows regret over 'no money' letter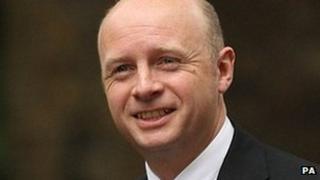 A former Labour cabinet minister has revealed he will "probably" regret forever leaving a note for his successor to say there was "no money" left when his party lost power in 2010.
Ex-Chief Secretary to the Treasury Liam Byrne said it had been "very foolish" to pen the memo to Lib Dem David Laws.
But he told the The House Magazine he had "felt disappointed" when Mr Laws made the correspondence public.
Mr Byrne said being in opposition left time for hobbies, including baking.
The former minister, MP for Birmingham Hodge Hill, left a note ahead of the 2010 general election, which Labour lost. On assuming the role of chief secretary to the Treasury, Mr Laws read it out.
'Old tradition'
The words were: "Dear Chief Secretary, I'm afraid there is no money. Kind regards - and good luck! Liam."
Mr Byrne, who has faced accusations of flippancy over the state of the UK economy, said: "It was a very foolish thing to do. [But] I suppose I did think there was a convention amongst honourable members that private correspondence would stay private.
"There's obviously a very old tradition of these notes that goes back to the 1930s. I felt disappointed that some very old conventions had been cast aside for political advantage."
Asked if he would regret it for rest of his life, he replied: "Probably."
But he said life in opposition was less demanding of his time than being in government.
Mr Byrne, who is now shadow work and pensions secretary, added: "Baking is a big love… it's having more time with my kids so we bake together on Saturdays or Sunday."