Iraq war arguments were deeply flawed, says Green MP Caroline Lucas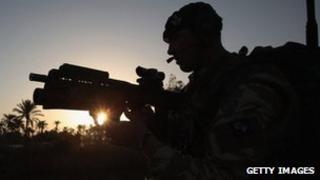 The arguments used by Tony Blair's government for going to war in Iraq were "deeply flawed", the House of Commons has heard.
The Green Party MP, who brought a debate to mark the recent 10th anniversary of the conflict's start, said intelligence had been "misused".
She also claimed the war had increased the security threat to the UK.
The UK lost 179 military personnel during the war, 136 of them killed in action. Forces were withdrawn in 2009.
The political debate about the reasons for entering the war, including the intelligence used, continues.
'Terror threat'
Former civil servant Sir John Chilcot is continuing to compile a report on the UK's involvement in the Iraq war and its aftermath, his committee having begun its work in 2009.
Ahead of the debate, Foreign Office minister Mark Simmonds told MPs that Sir John intended to start the "criticism phase" of the inquiry this summer. This would involve alerting people who may be criticised in the final report and giving them a chance to respond, he added.
Opening the debate, Ms Lucas, MP for Brighton and Hove, discussed the effects of the war on UK public safety, asking: "Do we feel more secure? Do we feel the security threat is diminished because of those 10 years of bloodshed and chaos? Because, in fact, the opposite is true."
She added: "The Iraq invasion increased the terror threat in Britain, radicalising a generation of young British Muslims and substantially increasing the risk of a terrorist atrocity on UK soil."
The Labour government's arguments for entering the war had been "deeply flawed".
Ms Lucas said: "Intelligence was misused. Concerns expressed by experts were suppressed. And the political and legal position was misrepresented. And from this rises the belief amongst many journalists and the public and many members of this House that they were misled into supporting the Iraq War.
"In fact, when you read the documents and listen to the testimony it's hardly far-fetched to call it a conspiracy."
Tony Blair had "used every opportunity to twist the evidence, to silence the critics and to encourage his supporters".
Ms Lucas criticised the government for not yet disclosing all the information that led to the war, arguing that this was not due to reasons of national security but to prevent "national embarrassment".
Going into Iraq was the worst British foreign policy decision since the Boer War, according to Tory MP Rory Stewart, a former deputy governor of two Iraqi provinces during the conflict.
He said it was "very, very dangerous" to pin all the blame on Tony Blair and George W Bush, and instead criticised "a culture which did not challenge and shape the debate sufficiently".
The motion, "that this House has considered the matter of the 10th anniversary of the Iraq War", was passed without a vote.