Protesters held over Parliament trespass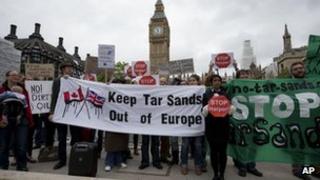 Three people have been arrested for trespass during a protest against Canadian Prime Minister Stephen Harper's visit to Parliament.
Campaigners against Canada's extraction of oil from its tar sands say they got on to the roof to interrupt his speech.
Parliamentary security staff detained two men and one woman at noon, as they tried to get into "non-public rooms", the House of Lords said.
Two women were also arrested outside on suspicion of criminal damage.
Mr Harper was addressing parliamentarians in the House of Lords. Shortly before he started speaking at 12:00, the doors slammed shut on the Robing Room and shouting was heard.
But his speech went ahead, attended by Labour leader Ed Miliband and Deputy PM Nick Clegg, among others. He later held private talks with the prime minister.
In a series of short films posted online, "Love Canada, hate tar sands" campaigners appear to have filmed themselves on the roof of Parliament, ahead of Mr Harper's speech.
In a statement, they said: "We have entered Parliament to interrupt Harper's speech. We have managed to climb on to the roof with T-shirts saying 'oil out of politics', 'stop Harper' and 'stop the tar sands'. Two campaigners have spilled molasses on the floor outside of Parliament."
Canada has some of the largest oil sand reserves - also known as tar sands - in the world. They are saturated with a dense form of petroleum which can be used as fuel, but its extraction generates higher greenhouse gas emissions than pumping from oil wells.
The European Commission has proposed labelling oil from tar sands as "highly polluting" - which would deter EU countries from importing it - and campaigners want the UK government to support it.
A House of Lords spokesman said: "The business of Parliament was unaffected. A full investigation is under way."