Mayor Boris Johnson backs Met chief over 'Plebgate' row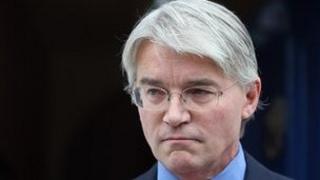 London Mayor Boris Johnson says he has "absolute confidence" in Metropolitan Police Commissioner Sir Bernard Hogan-Howe despite criticism of his handling of the "plebgate" affair.
Andrew Mitchell quit cabinet after an altercation with police but doubt has been cast on their version of events.
Sir Bernard has admitted discussing the case with journalists and not keeping a note of the conversations.
But the mayor told the BBC the row was "not a matter for [Sir Bernard]".
Mr Mitchell apologised for not treating officers with respect after being told he could not take his bike out through the main entrance of Downing Street last September.
He has admitted swearing, but he has always disputed newspaper claims that he described police as "plebs".
Three police officers have been arrested as part of an investigation into alleged misconduct as well as the unauthorised leaking of information to newspapers about the incident.
'Ludicrous'
There have been a number of calls from MPs for Sir Bernard to resign, including from Conservative Jacob Rees-Mogg, who told the Daily Telegraph he had "backed the erroneous tale, allowed his force to leak and failed to follow his own protocols".
But Mr Johnson told BBC Radio 4's The World at One on Tuesday: "I've got absolute confidence in Bernard Hogan-Howe.
"Bernard, I'm sure, shares everybody's frustration that this inquiry into the so-called plebgate affair is taking a time to resolve.
"It is not a matter for him. The CPS [Crown Prosecution Service] and the IPCC [Independent Police Complaints Commission] have got to decide what to do, decide whether there are any charges that need to be brought against individual police officers.
"Several arrests have already been made. This thing is being taken very, very seriously but... it is ludicrous to expect the commissioner to intervene in that way. The procedure must go on."
In the Commons on Monday MPs criticised Operation Alice, the police investigation into what happened, which was launched by Sir Bernard.
Conservative Richard Ottaway said then the commissioner had "a lot of questions to answer" and had been "in breach of his own rules" in failing to keep a record of conversations with the press.
Labour MP Keith Vaz complained Operation Alice had "taken eight months, involved 30 investigative police officers and cost the taxpayer £144,000 for an incident in Downing Street which lasted 45 seconds".
Police Minister Damian Green said he was as eager as MPs to "see justice done at the end of this episode", but he could not intervene in the investigation.
A Scotland Yard spokesman said an initial file on the incident had been passed to the CPS in March, but prosecutors subsequently asked for additional inquiries to be carried out.
The CPS said in a statement on Tuesday: "We have been informed by the police that it is likely to be up to three weeks before further witness statements, and other evidence, is made available to us.
"Only when all the relevant evidence is passed to us will we be able to consider if charges should be brought."