Top secret: The answer to whether we're being spied on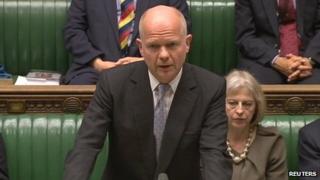 "I will take great care to say nothing..." the foreign secretary said at one stage during his statement about the questions raised by the revelation of the Prism programme for monitoring email and social media traffic.
At one stage during his Commons statement I feared that William Hague might live up to his words.
He meant that he would say nothing which might aid terrorists to know how the security services go about their business. Plots against us are made in secret, he said, so they need to be combatted secretly.
However, it was clear that he intended to say nothing at all about Prism - including even using its name. Nor did he intend to spell out in ways which any member of the public could understand when their emails or other social media traffic could be monitored.
'Proportionate'
Instead, Mr Hague made a number of general points again and again:
Firstly, that Britain should be proud of the security services which had protected us from numerous plots.
Secondly, that we had "one of the strongest system of checks and balances anywhere in the world", which involved ministers signing warrants before intercepts can take place, independent oversight of their decisions by the Intelligence Services Commissioner, and parliamentary accountability via the all party Intelligence and Security Committee, chaired by Sir Malcolm Rifkind. The ISC was, he said, the proper place to ask more detailed questions.
Thirdly, our current laws do not allow for "indiscriminate trawling" of data but only allow for "necessary, proportionate, targeted" searches.
Fourthly, the suggestion that GCHQ had sought to bypass the law by using intelligence gathered abroad was "baseless".
The clear hint was that ministers had approved the use of any intelligence gathered by the American National security Agency's Prism programme.
There was also a hint that the period leading up to the Olympics had been a time when such co-operation had been significant.
However, Mr Hague dodged shadow foreign secretary Douglas Alexander's invitation to confirm that all such data was approved by ministerial warrants.
I can't give an answer as categorical as he would like, the foreign secretary said, but it would be wrong to say this would be done without ministerial oversight. We are left to wonder what that really means.
Most of the House of Commons seemed reassured. Former Labour foreign and home secretaries backed the security services and the government. Many MPs wanted to know if the security services might not need more powers, rather than fewer.
However, if you were hoping for clear or detailed answers, you did not get them.
They are, it seems, well, secret.