MPs' anger over 'Plebgate' probe and conduct of Met commissioner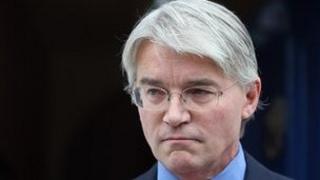 MPs have expressed concerns about the police investigation into 'Plebgate' and the role of Metropolitan Police Commissioner Sir Bernard Hogan-Howe.
Conservative Richard Ottaway said the Met chief had "a lot of questions to answer" about the probe while Crispin Blunt said the media had done a better job of establishing the facts.
Andrew Mitchell quit Cabinet after an altercation with police but doubt has been cast on their version of events.
Minsters said they couldn't intervene.
Mr Mitchell apologised for not treating officers with respect after being told he could not take his bike out through the main entrance of Downing Street last September.
But he has always disputed newspaper claims that he swore at police and described them as "plebs".
Three police officers have subsequently been arrested as part of an investigation into alleged misconduct as well as the unauthorised leaking of information to newspapers about the incident.
MPs used Home Office questions in Parliament to express their dissatisfaction with Operation Alice, the police investigation into what happened, launched by Sir Bernard.
The Crown Prosecution Service is still considering whether the officers involved will face charges.
Richard Ottaway said Sir Bernard had discussed the case with journalists and "in breach of his own rules fails to keep a note of his discussions".
"Six months later we do not even have a report," he said. "Would he (the Speaker) agree that the Met Commissioner has a lot of questions to answer."
Tory MP David Davis said police officers should be required to record "comprehensive" details of any contacts they have with the media while Labour's Tom Watson suggested that it was becoming increasingly apparent that Mr Mitchell had been a victim of "media spin at the highest level of the Metropolitan Police".
"This case is particularly important, not because the wronged party was an MP, but it could happen to any one of our constituents which don't have the vehicle to put this right."
'Ruthless search'
Mr Blunt joked that the police should hand over responsibility for the inquiry to Channel 4's Dispatches show, which revealed last year CCTV images of the incident at the gates to Downing Street.
Mr Vaz added: "The commissioner promised a ruthless search for the truth, but this has taken eight months, involved 30 investigative police officers and cost the taxpayer £144,000 for an incident in Downing Street which lasted 45 seconds.
"When can we have a timetable so this and other investigations in terms of past errors by the police are investigated thoroughly but quickly."
For the government, Police Minister Damian Green said he was as eager as MPs to "see justice done at the end of this episode" but he could not provide a "running commentary" on the investigation.
"It is not for ministers to set timetables. To ask ministers to intervene in a close and detailed way in the work of operationally independent police forces or the Independent Police Complaints Commission would be the wrong way to go."