Nadine Dorries faces 'I'm A Celebrity fee' inquiry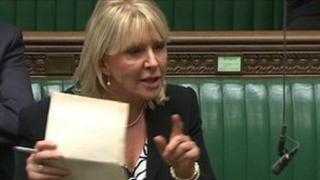 Tory MP Nadine Dorries is facing an inquiry from the parliamentary commissioner for standards.
The probe is understood to concern her fee for her autumn appearance on ITV's I'm a Celebrity... Get Me Out of Here.
A spokesman for commissioner Kathryn Hudson said she had decided to pursue a complaint received earlier this week.
Ms Dorries, who recently suggested she had not yet received an appearance fee and would obey Commons rules if she did, said she was being "hounded".
The Conservative MP has yet to declare any fee from the reality TV show in the Commons register of members' interests.
In a recent appearance on the BBC's Sunday Politics programme, Ms Dorries said she had not "personally" benefited from going into the jungle.
She said she had a company and added: "When I benefit personally from that I will have to declare it to the register."
Companies House records show she became a director of a limited company called Averbrook in October last year, shortly before going onto the show.
In response to the complaint, Ms Dorries told BBC political correspondent Ross Hawkins: "I'm a backbencher not a minister. My personal finances are my business and nobody else's and if I choose to take money from the company then I will declare it immediately to the standards commissioner."
Later, she took to Twitter to add: "If I haven't declared anything, it's because I haven't earnt anything. I must be the most hounded MP in parliament.
"Journalists, when the standards commissioner concludes the investigation and says there was no case to answer, will you give it prominent coverage?"
The Conservative Party suspended Ms Dorries following her TV appearance, but reinstated her last month.