Cuts raise risk of council collapses, MPs warn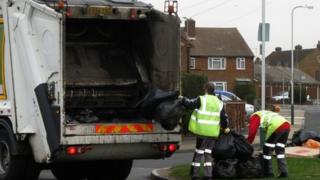 "Multiple" local authorities are facing financial collapse due to government spending cuts, MPs have warned.
The Public Accounts Committee said ministers should be drawing up contingency plans to cope with councils in difficulty.
The worst-affected authorities, often in poor areas, may be be unable to meet their statutory requirements, the committee said.
The government said every council had to "do its bit" to save money.
The central government grant to local authorities is being cut by £7.6bn - or 26% - in real terms between 2011 and 2015, as part of the effort to reduce the budget deficit.
'Not viable'
The committee's chairwoman, Labour MP Margaret Hodge, said: "Individual councils are seeing very different levels of funding reductions.
"For some, the cash they spend on services has been reduced by about 1% in 2012-13. Others have had the maximum reduction of nearly 9%.
"The more grant-dependent local authorities are suffering the highest reductions in spending power. But these are the very councils which serve poorer and more vulnerable communities whose need for services is the greatest.
"This raises the spectre of the worst-affected councils being unable to meet their statutory obligations."
Plans to allow councils to keep some of the business rates they collect would only reward those in commercially successful areas, adding to discrepancies, the committee said.
The committee said there was a risk of some authorities becoming financially unsustainable.
It cited the example of West Somerset Council, recently deemed "not viable" by the Local Government Association.
Mrs Hodge said: "Central government is cutting funding to local authorities by more than a quarter over four years but does not properly understand what the overall impact will be on local services.
"Departments have provided some information on possible impacts but it was superficial and incomplete."
'Frank and open'
The Department for Education had "failed to provide a proper cost analysis" of how funding reductions would affect children's services, the committee said.
Meanwhile, the Department for Communities and Local Government's procedures for managing problems with town hall finances or service provision were designed for dealing with one-off failures rather than a wider collapse.
Mrs Hodge said: "Local authorities are tending to cope with funding reductions. But in the long term there might well be little room for further efficiency gains and services would have to be cut.
"There needs to be frank and open dialogue between central and local government and the public on just what services councils will be expected to provide in a prolonged period of declining funding."
But local government minister Brandon Lewis said: "Every bit of the public sector needs to do its bit to tackle the deficit left by the last administration, including local government which accounts for a quarter of all public spending."
He added that council funding settlements were "fair to all parts of the country - rural or urban, district or county, city or shire".
Mr Lewis also said: "The government's carefully considered reforms are helping councils achieve greater financial independence and deliver sensible savings while protecting frontline services."