Coalition can be tedious, says minister Michael Fallon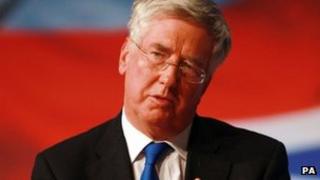 Conservative minister Michael Fallon has said being in coalition can be tedious and time-consuming.
Mr Fallon told the House magazine there were "an awful lot of people to be consulted" but praised the Lib Dems for sticking to the deficit plan.
His dual roles as both an energy and business minister mean he works for two Lib Dem secretaries of state.
He also said that fracking, the process of extracting natural gas and oil from shale rock, was "very exciting".
Mr Fallon was brought in as energy minister in March to replace his Conservative colleague John Hayes - who had had high-profile differences with Lib Dem Energy Secretary Ed Davey, notably over onshore wind turbines.
'Fair play to Lib Dems'
In his interview, Mr Fallon told the parliamentary magazine: "Life would be a lot easier if we didn't have the coalition.
"The process of coalition for both sides is time-consuming, bits of it can be tedious, there are an awful lot of people to be consulted, getting agreement across Whitehall is made doubly difficult by the coalition.
"But then if we didn't have the coalition we would be stuck with the rest of Europe, way behind on our fiscal plan.
"The great strength of the coalition is that it is a five-year programme which we have stuck to, of getting the deficit down. Fair play to the Liberal Democrats, they have never wavered in that central purpose."
He also said he had had a "lot of help" at the energy and business departments to cope with having two jobs, but did not have time for lunch.
"It means you just have to focus on what's essential. I've shortened meetings," he said. "There's no need to have hour-long meetings."
On the controversial process of fracking, the energy minister said the possibilities were "very exciting" and it was important that Europe did not lose manufacturing to the US, where shale gas had "dramatically lowered the cost of energy for industry".
Fracking, or hydraulic fracturing, is used across the US to exploit reserves of oil and gas that were once believed to be inaccessible. But in the UK, the use of fracking was halted in 2011.
'Open for business'
After several reports into the incidents, the government announced in December that it would lift the temporary ban.
This week one of the energy firms hoping to exploit the UK's resources of shale gas, IGas, said it may be sitting on significantly more gas than previously thought.
Mr Fallon said he wanted to "inject more pace" into fracking and fiscal incentives for small firms would be in the chancellor's Autumn Statement, to take effect from April 2014.
He said they did not yet know whether it was "technically and economically possible to extract shale in the same way as they have in the States" but added: "We're open for business and there's a very robust regulatory regime in place.
"They know what they have to do, they know the permissions they need, there's nothing stopping these companies now getting on and exploring."
He denied it was a "party political thing" - arguing there were Conservative-held seats in Lancashire and Yorkshire that could be affected - and said potentially, a lot of jobs could be created.
The UK already had strict controls on water contamination and methane emissions and there would be "five locks to ensure that shale exploration is going to be safe and responsible", Mr Fallon added.
The government was working with companies on a "package of community benefits" for areas affected by construction - such as a potential reduction in energy bills locally, he said.