Government bans 'legal highs' NBOMe and Benzo Fury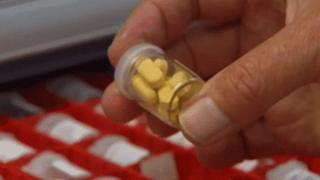 The government has announced a year-long ban on two "legal highs" - known as NBOMe and Benzo Fury - while drugs experts assess their impact.
NBOMe is described as "a novel psychedelic research chemical" whose effect is similar to LSD.
Benzo Fury is said by to be a "mild stimulant" that acts like amphetamines, such as speed.
Home Office Minister Jeremy Browne said the temporary ban would "protect the public" and prevent "misery".
According to a report published last year by the EU's drug agency, new legal highs and other synthetic drugs - mostly made in Asia - are appearing on the market at the rate of one a week.
'Ruin lives'
The government has to classify these as banned substances to prevent their legal sale.
NBOMe and Benzo Fury will now be banned until the independent Advisory Council on the Misuse of Drugs decides whether to make this situation permanent.
Mr Browne said: "Drugs ruin lives and cause misery to families and communities, and the use of this power shows how the UK is leading the way in cracking down on new psychoactive substances.
"This temporary-class drug order will protect the public and give our independent experts time to prepare advice, while enabling law enforcement partners to target traffickers.
"Making drugs illegal is only part of the solution, however.
"Users of these substances need to understand that although they are described as 'legal highs', they are by no means safe."