Profile: Patrick Mercer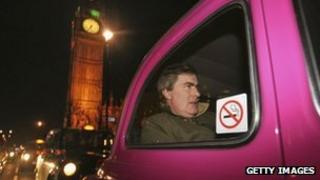 Conservative MP Patrick Mercer is a former army officer who began what looked like a promising parliamentary career in 2001 when he recaptured Newark from then Labour MP Fiona Jones.
Two years later he was promoted to the front bench by then Tory leader Iain Duncan Smith as shadow minister for homeland security.
And, in a sign of the regard in which he was held, he was kept in the post as homeland security spokesman under both Michael Howard and David Cameron.
His role was seen as a high-profile one in the light of terror threats and the Conservatives' commitment to making homeland security a key cabinet job.
'Despicable creature'
But he was demoted to the backbenches in March 2007 by Mr Cameron after saying that during his army career he had seen "a lot of ethnic minority soldiers who were idle and useless, but who used racism as cover for their misdemeanours."
He also suggested, in an interview in The Times, that being called a "black bastard" was part of life in the armed forces.
Months later he was appointed as an adviser to Labour security minister Lord West, a short-lived role.
His relationship with Mr Cameron since has not been a close one.
In 2011 several newspapers reported that he had called the PM a "despicable creature without any redeeming features" at a private function and predicted Mr Cameron would be ousted in a coup.
EU rebel
He refused to discuss the story when asked about it by BBC Radio 5 Live but was reported to have denied making the comments.
He rebelled on House of Lords reform in 2012, was critical of some defence cuts, and was among 116 Conservative MPs who "expressed regret" that the Queen's speech had not included a referendum on the UK's EU membership earlier this month.
Last year he was accused of breaking Commons rules by sponsoring a Commons pass for the head of a firm that had paid him for consultancy work.
He said there was no conflict of interest as the work was not carried out in Parliament and payments were declared - and Parliament's standards commissioner decided not to investigate the matter.
Born in 1956, Mr Mercer was the son of an Anglican clergyman who went on to become the Bishop of Exeter.
Gallantry commendation
He was a pupil at the King's School, Chester, before studying modern history at Oxford University and attending the Royal Military Academy at Sandhurst.
Before his Parliamentary career, he had spent 25 years as an Army officer with the Sherwood Foresters, serving in Northern Ireland, Bosnia, Uganda and other countries.
He received a gallantry commendation in 1990, an MBE in 1992 and an OBE in 1997 for services in Bosnia.
After a stint as the regiment's commanding officer - becoming the youngest full colonel since World War II - he stood down to pursue his political career.
But before he got to Westminster he worked as a journalist, including a job as a defence correspondent on BBC Radio 4's Today programme, as well as writing about military history and travel for the Daily Mail and Daily Telegraph.
He also did a stint in East Timor developing defence strategy, and has written books with titles such as Give Them a Volley and Charge! (a study of the battle of Inkerman).
He is married with one son and lives just outside Newark.
His interests include British 18th and 19th Century history, watercolour painting and country sports.